One day after surrendering over 100 points in regulation for the first time in 30 years, No. 6 Kansas responded with a strong showing on both ends of the floor in a 94-72 win over Saint Joseph's on Friday at Suncoast Credit Union Arena in Fort Myers, Fla.
The Jayhawks ended up going 1-1 in the Rocket Mortgage Fort Myers Tip-Off, with a loss to top-ranked Gonzaga on Thursday.
"We won't play a lot of teams that is harder than these two in this tournament to guard as far as our personnel," Kansas coach Bill Self said during his postgame interview on the FS1 broadcast. "This was good for us. Even though it wasn't always pretty today, it was nice to see us have some individual guys make some big plays for us."
Obviously Kansas faced an inferior opponent on Day 2, but there were a lot of good things in the team's first win of the season. Sophomore Christian Braun poured in a career-high 30 points on 10-of-13 shooting from the floor. He went 5-for-8 from beyond the arc.
Ochai Agbaji and Jalen Wilson both finished in double figures in the win. Agbaji added 18 points on 7-of-13 shooting, while Wilson went 4-for-8 from the floor en route to scoring 14 points. KU scored 1.205 points per possession in the win.
Document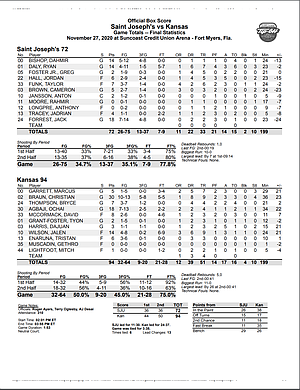 Here's a quick look back at some of the action:
• The game turned when: Kansas took control of things in the first half.
After laboring through much of the first half — and even being down for a strong chunk of it — KU went on a run to take control of the contest before the break. At one point, the Jayhawks scored 11 unanswered points to grab a 39-30 advantage with 3:55 left in the first half.
It was a stretch that started with a pair of free throws by David McCormack to even things up at 30-30 at the 6:15 mark. McCormack then netted a bucket less than a minute later on a second-chance opportunity.
Bryce Thompson, who got his first career start on Friday, then followed things up with a driving layup. Kansas junior Ochai Agbaji added a couple of free throws before draining a 3-pointer to cap off the 11-0 run by KU.
More importantly, Saint Joseph's was held scoreless between the 7:16 and 3:20 mark by KU's defense.
• Offensive highlight: It took nearly 60 minutes of action, but Kansas recorded its first dunk of the 2020-21 campaign.
At the 11:49 mark in the first half, junior college transfer Tyon Grant-Foster had the honors of recording KU's first slam of the season. He did so on baseline cut, where Jalen Wilson threaded a nice pass from the high post.
It was an important sequence for the Jayhawks, who struggled to finish at the rim on layups and didn't have a dunk at all in the season opener against Gonzaga. According to BartTorvik, Kansas netted 143 dunks during a 28-3 campaign a season ago.
• Defensive highlight: The Jayhawks had some issues on the defensive end for the second day in a row, especially in the first half due to the way the opposition was attacking them.
Saint Joseph's was able to stretch the floor, and get off a lot of good looks from beyond the arc against the Kansas defense. It was a problem that persisted during KU's 102-90 loss to Gonzaga on Thursday in the season opener.
Ochai Agbaji had one of the better defensive plays in the first half, however. Late in the first half, Greg Foster Jr. cut through the lane and appeared to be heading toward an easy layup. Agbaji came out of nowhere and denied the shot at the rim in the final minute of the first half.
In the second half, Dajuan Harris had a heads-up play by taking a charge to force a turnover with 13:41 left to play. Moments later, Harris found Christian Braun for an alley-oop. Harris actually ended up drawing two charges for KU in the win.
The redshirt freshman guard was making plays in his first real collegiate action, so get used to seeing more of him moving forward.
"We needed a spark and he gave it to us," Self said of Harris on the FS1 broadcast. "I thought he was great defensively."
• Key stat: The Jayhawks struggled to finish at the rim in this one. Kansas went 14-for-26 on layup attempts on Friday. KU did make all three of its dunk attempts though.
• Up next: Kansas will face Kentucky at 8:30 p.m. Tuesday in the Champions Classic.