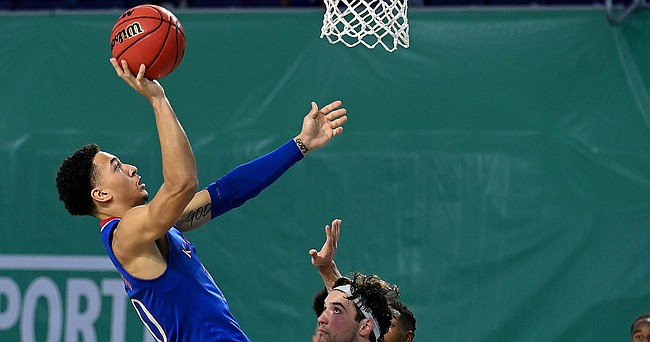 Redshirt freshman Jalen Wilson won the race to be the Jayhawks' fifth starter during KU's 102-90 loss to No. 1 Gonzaga on Thursday at Suncoast Credit Union Arena in Fort Myers, Fla.
Wilson, who missed nearly all of last season with a broken ankle, started in the KU backcourt alongside senior Marcus Garrett, junior Ochai Agbaji and sophomore Christian Braun.
Junior David McCormack also started as the Jayhawks' lone big man.
Wilson's first stint as a starter lasted just 3:27 and featured very little activity. He missed his only shot in that time — a 3-pointer — before being replaced by freshman Bryce Thompson. Thompson actually started the second half in Wilson's place, but both freshmen delivered strong showings for the sixth-ranked Jayhawks.
Wilson finished with 11 points on 5-of-11 shooting and added four rebounds in 22 minutes.
Thompson, the five-star freshman from Tulsa, Okla., tallied 12 points on 5-of-10 shooting in 28 minutes.
"I thought they both did pretty well," Self said of the players he dubbed KU's "fifth and sixth starters." "I couldn't have expected them to play better at this juncture."

Thanksgiving commitment
Just hours before the Jayhawks tipped off the 2020-21 season, KU's 2021 recruiting class grew by one player, 6 feet, 8 inches and 265 pounds.
Class of 2021 power forward Sydney Curry, of John Logan Community College in Carterville, Ill., announced his commitment to Kansas just after 11 a.m. Thursday via Twitter.
Not yet ranked in the Rivals data base, the new KU big man chose Kansas over offers from Mississippi, Seton Hall and Texas A&M.;
Curry said he has known since June that he was coming to Kansas but he wanted to wait for the season's opening day to "start the season off right."
"It was a no-brainer, really," Curry told the Journal-World during a phone interview Thursday morning. "Coach Bill Self and that program speak for themselves and I'm just ready to get to work."
Originally from Fort Wayne, Ind., Curry averaged 13.5 points and 8.3 rebounds a game as a freshman at Logan CC last season. He landed at Logan after originally being committed to Miami (Ohio). However, his failure to qualify for enrollment at Miami forced him to go the juco route and he's made the most of it since.
Curry told the Journal-World he currently has a 3.5 grade-point average and that he views his second chance and the opportunity at Kansas as "a blessing that's still pretty overwhelming, really."
Sunflower layover
One day before the Jayhawks traveled from Topeka down to Fort Myers, it was Gonzaga's team plane that used the runways at Topeka Regional Airport to get to Florida.
According to Alex Martin, who covers sports for the News-Press in Fort Myers, Gonzaga made a stop in Topeka on its way from Spokane, Wash., to Fort Myers.
The stop was short and sweet and served as a way for the Bulldogs' plane to refuel. But less roughly 24 hours later, it was the Jayhawks who used Topeka Regional as their departure point for the 2020-21 season opener.
Quick turnaround a concern?
For months, the start of the 2020-21 college basketball season was hanging in the balance, with teams across the country reworking their schedules and watching COVID-19 force postponements, cancelations and temporary pauses.
Now, with one game already under their belts, the Jayhawks are set to jump into Game 2 with less than 24 hours of rest.
Document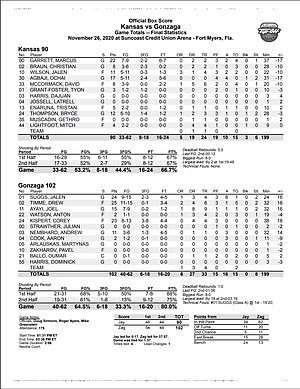 While that might seem a bit fast and furious given the current landscape, Self said it was actually not all that different from what the Jayhawks have done at other events in years past. They just haven't always started the season with two games in two days.
"A lot of these (multi-team events) have always been back-to-back," said Self, noting that KU's trips to the Maui Invitational have required them to play three games in three days. "I don't know what's best. In my world, I'd rather have a day between (games) just so you can kind of regroup. Because you really don't know what to expect the first night and usually it goes not as scripted."
Regardless of the advantages or disadvantages Self sees in the format, he was quick to point out that all four teams in Fort Myers were dealing with the same situation.
"St. Joe doesn't have that luxury either," Self said. "So I'm sure they say the same thing. The most important thing is just playing and grinding through it and finding more out about your team."
Scouting Saint Joseph's
The Hawks' are as deep as they've been in a long time, but most of what they do offensively will go through preseason second-team all-Atlantic 10 guard Ryan Daly.
While averaging 21 points, 7 rebounds and 4 assists per game during the 2019-20 season, Daly, a 6-foot-5 senior, shot just 31% from 3-point range. But the expectation within the program is that more help around him will free him up to take better shots this season.
Cameron Brown, a 6-5 sophomore, was the team's second-leading scorer (10.1 ppg) last season and the only other Hawks player who averaged double-digits.
Junior Taylor Funk, a 6-8 wing, averaged 9.4 points per game last season and was one of the Hawks' better scorers in the paint because of his ability to knife his way through the lane and attack the offensive glass.
St. Joe's (0-1) lost to Auburn, 96-91 in overtime, in Game 2 in Fort Myers on Thursday. Funk led the Hawks with 28 points while Daly added 18 on 6-of-20 shooting.
The Hawks are coached by former Philadelphia 76ers assistant Billy Lange, who guided the program to a 6-26 record during his first season in 2019-20.
This and that...
Gonzaga's win evened the all-time series between the two programs at 1 win apiece... The victory was the 600th of Gonzaga coach Mark Few's career... KU is now 9-17 all-time against the No. 1 team in the AP poll, including 4-3 under Self... The loss marked just the third time in Self's career that the Jayhawks have lost their season opener.