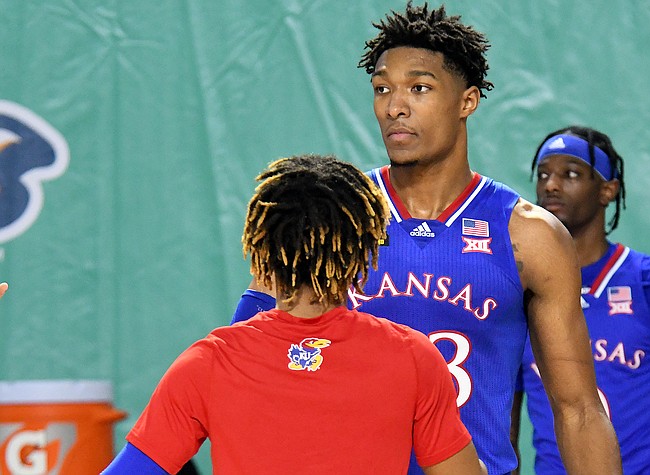 Bill Self tried to speak it into existence before the season began.
It was reasonable, Self shared with the reporters during the preseason, to ask Kansas veteran big man David McCormack to defend ball screens and protect the lane in a way that could at least somewhat resemble former KU defensive stalwart Udoka Azubuike.
With a national spotlight on Thanksgiving afternoon against top-ranked Gonzaga as the backdrop for McCormack's season debut in that role, the 6-foot-10 junior struggled to do what KU's defense needs most out of him, and the Zags found their way to the paint over and over in a 102-90 victory at the Fort Myers Tip-Off.
It's not time to overreact, exactly, because the No. 6 Jayhawks are just 0-1 and showed some strength of character against a loaded Gonzaga team. But it is time for the Jayhawks to ask for more from the man who is supposed to be their top interior player.
Forget that McCormack shot 3-for-9 from the floor and turned the ball over four times during his 20 minutes against Gonzaga. KU will need his defense much more than his offense this season. And McCormack didn't look much different on that end of the court than he did as a backup big during his sophomore year.
Gonzaga might have been the worst possible matchup for McCormack to start the season. Head coach Mark Few and his staff develop and churn out effective offensive bigs year after year. Drew Timme, the Zags' latest crafty interior scorer, never hesitated to go right at McCormack, and left the marquee win for his team with 25 points on 11-for-15 shooting.
Timme outscored McCormack 17-2 in the first half. It was such a lopsided matchup that Self went to five guards with 2:42 left until halftime, using redshirt freshman forward Jalen Wilson as the pseudo big for KU.
Gonzaga worked McCormack and the KU defense for 18 layup or dunk attempts by halftime, scoring 28 points at the rim for a 54-46 lead at the break. That never would have happened against an Azubuike-anchored defense.
Last year the Jayhawks held an opponent under 54 points — for the entire game — six times. That's not to say even the defensive juggernaut that was the 2019-20 Jayhawks would've shut down Gonzaga. But the 2020-21 season began as a harsh reminder that KU won't be that type of elite defensive team, which shouldn't come as a surprise, given the departures of Azubuike and Devon Dotson.
With McCormack taking his first crack at being a big, defensive presence, Self could only play him 20 minutes and Gonzaga scored 62 points in the paint (28 fast-break points) — KU only allowed 30 points in the paint four times all of last season and never gave up more than 32 inside.
McCormack, who finished with six rebounds, opened the second half with a defensive board to finish a stop on Gonzaga's first possession, then scored on a jump hook from the right block. KU needed more than one solid sequence from its premier big against the No. 1 team in the country, though.
"He struggled on both ends," Self admitted during his video press conference afterward, when asked about McCormack's defense. "Off balance. Trying too hard. Sped up."
Document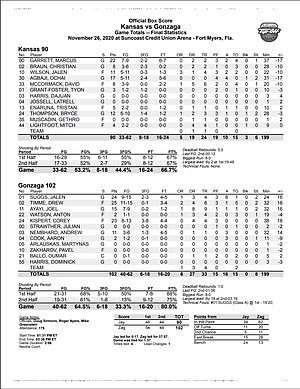 Nevertheless, Self stuck to his preseason vision of what McCormack could become for KU this year.
"He'll get that back. David's been terrific in the preseason workouts," Self said. "I think he was a little too amped up today. And then when things didn't go well early, it kind of set him back a little bit."
The words "too amped up" have been uttered about McCormack since his freshman year. Now that he's a junior, and a much more important part of the rotation, Self and his staff will have even more incentive than before to get him to ease up and play more comfortably.
"Certainly David is not Dok," Self made clear following the loss to Gonzaga. "So we've got to figure out some ways to help him whenever big guys have the ball. And that's a tough team to trap, especially this early in the season, when we haven't worked on it that much. And especially when they spread shooters out around him, and Timme's a good passer."
The lack of interior defense KU showed could prove problematic all year, regardless of the opponent's frontcourt pedigree. If McCormack doesn't improve defensively, and Self can't play him more than 20 minutes, playing five guards with Wilson might prove to be KU's most effective lineup down the road.
Wilson, at 6-8, made some solid finishes inside as the biggest member of a perimeter-oriented lineup. He scored nine of his 11 points in the second half as KU tried to rally, and eight of those points after the break came off layups.
But Wilson doesn't have the same physical stature as McCormack. And the older McCormack needs to put that powerful frame to use on defense so KU doesn't become a team that can only win by outscoring its toughest opponents.
"David, he's got to be a better ball screen defender, and certainly, got to be a better lane and rim protector," Self said. "But I think he can. I think he can. He just didn't have one of his better games today."