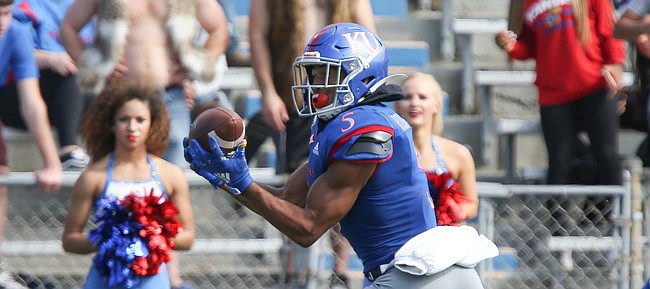 There are at least two seniors on the Kansas football roster Les Miles would like to see take advantage of the NCAA's blanket waiver for an extra year of eligibility.
KU's head coach, while discussing some of this year's seniors on his "Hawk Talk" radio show on Wednesday evening, identified receivers Stephon Robinson Jr. and Andrew Parchment as players the staff would want to invite back for the 2021 season.
"We want him back," Miles said of Robinson, the first of the receiving duo to come up. "There isn't any question. We'd love to have him back."
When the conversation turned to Parchment, Miles added, "We'd like to have him back, too."
The Jayhawks' top two receivers in 2019, neither has enjoyed the same level of success this year. Robinson, who averaged 16.2 yards per catch and scored eight touchdowns as a junior, when Carter Stanley was KU's QB, has only been able to play in parts of three games this year, while dealing with injuries.
Robinson made one reception at Baylor in the Big 12 opener and another at West Virginia. He hasn't played since that WVU loss on Oct. 17, and Miles said recently the usually speedy 5-foot-10 wideout had surgery to address a lower right leg injury.
Parchment, a 6-2 target who caught 65 passes in 2019, has played every game so far for KU this year, but has just 23 receptions for 192 yards with two touchdowns, as KU's offensive line and passing game have struggled throughout an 0-7 start.
The NCAA determined back in August, before fall sports began, that all Division I athletes would receive an extra year of eligibility, due to the complications surrounding the COVID-19 pandemic. Seniors who are able to take advantage of this unusual extra year of eligibility won't count against their team's scholarship limits during the 2021 season.
Senior linebacker Kyron Johnson said earlier in the week he hopes to return for an extra year.
Hughes dealing with foot injury
Though Miles previously didn't share any details regarding the absence of starting offensive lineman Chris Hughes, only calling him "nicked," the coach said on the latest episode of "Hawk Talk" that the senior right guard has a Lisfranc injury.
According to orthoinfo.org, a Lisfranc injury happens when bones are broken in the midfoot or ligaments that support the midfoot are torn.
Hughes started the first six games of the year before missing the loss at Oklahoma on Nov. 7. Miles didn't say whether Hughes had surgery to repair the foot injury.
It appears unlikely Hughes will return to the lineup before the season ends for KU on Dec. 12, as orthoinfo.org states that even nonsurgical treatments require wearing a boot for six weeks.
Miles still optimistic about playing this week
Just as he was on Monday during his weekly press conference, Miles remained by midweek confident about his team's ability to take the field versus TCU on Saturday night (7 p.m. kickoff, FOX Sports 1), a week after the Jayhawks couldn't meet a Big 12 threshold for playing due to scarce personnel numbers on the defensive line.
"For me, I think this one's a no-brainer," Miles said on his radio show. "I think we're OK."
KU's coach hinted his team still might be dealing with a less than ideal roster situation, due to injuries and rules for isolating that come with contact tracing and a positive COVID-19 test.
"And that may or may not give us our best team for the Saturday coming up or the next Saturday," Miles said. "You just don't know."
According to Miles, the KU football program is taking "policeman-like" measures to try and keep players and staff members masked, socially distanced and safe around the facilities.
"We don't fill our meeting rooms. We can't," Miles gave as an example. "I look at an empty room when I'm giving a talk (to the players), because it's virtual and they're out of the building."