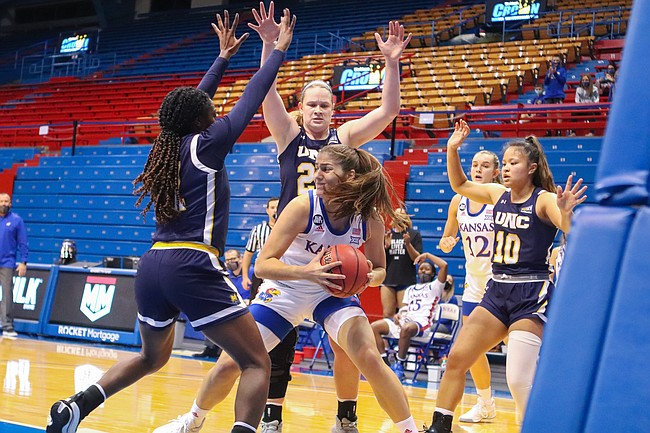 It ended up being the perfect night for head coach Brandon Schneider, and not just because the Kansas women's basketball team got the opportunity to play for the first time in nine months.
During a 78-62 victory over Northern Colorado, Kansas put together two quarters of quality basketball to jump out to a commanding lead Wednesday night at Allen Fieldhouse. Then, KU stumbled down the stretch to let the visitors pull within 11 points with 4:32 left to play in the game.
The end result was a perfect blend of good and bad for a season opener, and gave the Jayhawks (1-0) a better understanding of who they are after not having the opportunity to play any exhibition contests.
"This is probably, in my estimation, a perfect game for us as a coaching staff," Schneider said. "We played two good quarters, we can look at that and evaluate it. We can use it as a teaching tool. Obviously, we played two quarters that we are probably not very pleased with, so we can use that to make adjustments."
The Jayhawks, who went undefeated in nonconference play a year ago, are off to another hot start this season. Yet there was something different about Wednesday's win, and it wasn't just because there were no fans in attendance.
Especially when the team played well in the first half, KU's formula for success came down to getting good looks near the rim. Kansas finished with a total of 38 points in the paint behind the tandem of senior Tina Stephens (13 points) and freshman Ioanna Chatzileonti (15 points) in the post position.
The post play was an area of the game that Schneider believed his team would improve on this year, particularly because of Chatzileonti. The 6-foot-3 freshman from Athens, Greece finished 7-for-8 from the floor during her first collegiate action.
"I thought Ioanna played really, really well for her first time out," Schneider said. "I think we can probably play through her a little more than what we did. I thought we missed her on some opportunities in the low post."
KU got off to a strong start behind its post play. Chatzileonti and Stephens were in the starting lineup — along with junior guard Aniya Thomas, sophomore guard Zakiyah Franklin and sophomore guard Holly Kersgieter — and that group played the entire opening 4:59 of the game.
"We played well," Kersgieter said. "The first half was obviously better than the second half. We had that stretch where we lost a little bit of the lead. Being the first game, I don't think that's a terrible thing to do because we can learn from it."
Over that stretch, Kansas jumped out to a 14-4 advantage on Northern Colorado (0-1) and never trailed all night. Stephens scored three buckets over that opening stretch, while Chatzileonti notched three of her own baskets and assisted on another.
Schneider admitted that the starters got an extended run out of the gate to see what kind of condition they were in.
"We haven't had any exhibition games, we've had a couple intrasquad scrimmages," Schneider said. "It's hard sometimes to gauge what kind of condition you are in for games until you get out there."
Chatzileonti, who is a former member of the Greek National Team, was as good as advertised in her Jayhawk debut. She was efficient at the rim, getting good looks with physical post play against the Bears.
When Chatzileonti had to improvise, she demonstrated a crafty ability to get her shot up. In fact, the final bucket of that 14-4 run by the starting lineup came when Chatzileonti simply flicked the ball backwards and it found a way to go through the net.
"She's done that about three times in practice," Schneider said. "We have a lot of experience on our staff, I don't know that any of us have seen that type of shot attempt. But, at this point, she's 100% on it. So we will let her stick with it."
KU's first rotation started things off with strong defensive play. Thomas forced a five-second violation along the perimeter on one of the first possessions of the night. Northern Colorado didn't score its third basket of the game until the 4:07 mark in the first quarter.
All of that merely set the tone for the Jayhawks. Freshman Mia Vuksic, freshman Katrine Jessen, graduate transfer Julie Brosseau, junior guard Brooklyn Mitchell and senior center Bailey Helgren all rotated in at the 5:01 mark in the first period and KU didn't skip a beat.
Helgren, who is a 6-foot-5 center, actually had one of the better highlights of the opening period with a block before proceeding to net the putback on the other end.
That level of production off the bench allowed the Jayhawks to be just as effective on both ends of the floor for the duration of the first half. KU ended the first quarter on an 11-0 run to grab a 25-11 advantage after the first frame. Kansas then closed out the second quarter on another 11-0 run to take a 45-20 lead into the break.
Northern Colorado did eventually cut it to a 65-54 margin with 4:32 left to play in the game. Kersgieter responded with back-to-back 3-pointers, including one off a designed inbound play out of the timeout. Kersgieter paced the squad with 21 points and added 11 rebounds in the win.
"I just hit them when I needed to because I wasn't really hitting them in the first half," Kersgieter said. "I knew that I needed to and I know that I can. So it felt good."
Because of Kersgieter's play down the stretch, KU was able to hang on in an unusual season opener with no fans in attendance.
Both teams took precautionary measures to help mitigate the risk of playing during a pandemic. Chairs on the bench were spaced out six-feet apart for both squads. The players made sure to keep their distance whenever they were huddled up. Masks were worn by everybody not actively playing.
There might not have been fans to cheer on big moments or a band playing music to help break up the silence. But when Northern Colorado won the opening tip, it quickly turned to KU's first meaningful basketball game in nine months.
"We talked about how grateful we all are for the opportunity to compete," Schneider said. "I think any time we get a chance to move forward and play in a game, I think we really need to appreciate it and have some fun with it."
Kansas will play host to Texas A & M Corpus Christi at 2 p.m. Sunday.