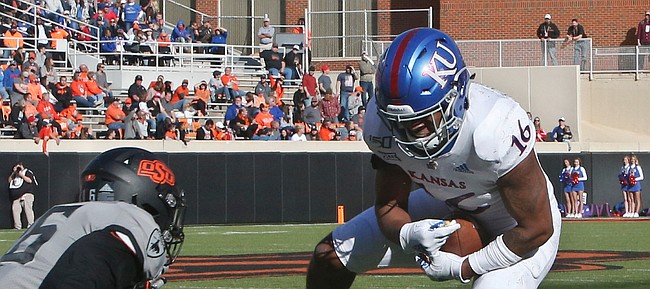 Since losing at Oklahoma on Nov. 7, Kansas football players have seen their time off extended unexpectedly, the result of their home game versus Texas being postponed following a bye.
But the struggling Jayhawks this week, ahead of their scheduled return to action versus TCU on Saturday, downplayed the idea that they might also have to deal with some rust when they play for the first time in 21 days.
"I feel like we're taking advantage of this really well," sophomore safety Kenny Logan Jr. said of the prolonged break. "We had some extra practices to get ready and get our minds focused on TCU, and just lock in to that game plan."
Head coach Les Miles said once the KU-UT game got postponed on the Wednesday before it was supposed to be played, the Jayhawks began preparing for the TCU matchup (7 p.m. Saturday, FOX Sports 1). Unlike in a typical game week, the unforeseen schedule change meant the Jayhawks practiced Wednesday through Saturday, with all of that time tied to the Frogs. Then when TCU game week arrived on Monday, the Jayhawks (0-7 overall, 0-6 Big 12) just continued prepping for the Horned Frogs (3-4, 3-4) even more.
Junior receiver Takulve "TK" Williams said the Jayhawks didn't mind getting a head start on their next opponent.
"It's weird. But, I mean, we're still practicing," Williams said of the lengthy break. "And every week we're taking it like we're playing a game. It's just like we've got extra practices, I guess."
TCU, which was unable to play its September season opener versus SMU because of COVID-19 concerns, had a scheduled bye week on Nov. 14, ahead of its trip to Lawrence. The Frogs lost their most recent game, 24-6, at West Virginia on Nov. 14.
Having faced only Big 12 opponents this season, TCU comes to KU averaging 24 points per game and 381.7 total yards on offense.
Said Logan: "It's always better to have extra time going into a game against your opponent, so I feel like we took that really well this week."
When kickoff finally arrives on Saturday night at David Booth Kansas Memorial Stadium, Williams doesn't think KU will look out of practice. He said Miles made sure the Jayhawks went through sessions of late that were akin to scrimmage situations.
"You know the game will be a little different because it's so live, and you're going against people that you don't know," Williams acknowledged. "But coach lets us go against each other, like offense on defense."
Once the Texas game got postponed, senior linebacker Kyron Johnson said, the KU defense began going over new calls at practices, while making themselves ready for TCU.
Johnson didn't think the Jayhawks will have issues ramping up their intensity after two game-less weeks in a row.
"We're still preparing to do something great here," Johnson said. "Yeah, we have no wins under our belt. But there's still three games to be played and three games that we can put out there to show for this upcoming season."