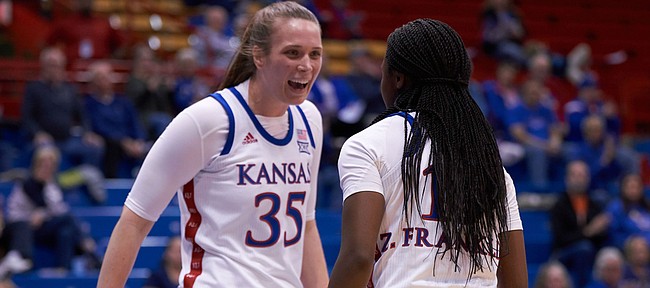 The 2020-21 campaign is slated to begin on Wednesday for the Kansas women's basketball team with a home matchup against Northern Colorado. And it is not hard to see why head coach Brandon Schneider is optimistic about his squad's chances this year.
Along with a talented group of newcomers, the Jayhawks return four double-digit scorers — Aniya Thomas, Zakiyah Franklin, Tina Stephens and Holly Kersgieter — from a season ago. That quartet helped KU post a 15-14 record, the team's first winning season in five years with Schneider at the helm, before the postseason was ultimately canceled due to the threat of COVID-19.
Prior to the campaign abruptly ending, the Jayhawks had won three of their final five Big 12 games to finish the year with a 4-14 clip in league action.
"We were really proud of how we were playing down the stretch heading into the Big 12 tournament," Schneider said during KU's season preview segment on Big 12 Now, which aired on ESPN+ last Friday. "We felt like we were a postseason team a year ago prior to COVID."
The key for KU will be picking up where it left off after an eight-month hiatus. Kansas will host Northern Colorado at 6 p.m. Wednesday at Allen Fieldhouse. No fans will be in attendance, but the game will be broadcasted on ESPN+ through Big 12 Now.
But while Schneider might have liked how his team was rounding into form back in March, he also identified areas of improvement for the Jayhawks: Finishing at the rim and rebounding.
According to Her Hoop Stats, KU ranked 86th in the nation with a 46.1% clip on 2-point shots. Kansas ranked 114th in total rebounding, which was actually the team's best ranking under Schneider, with an average of 38.5 rebounds per contest.
"In the games we came up short a year ago, that was a glaring weakness for us," Schneider said. "We feel like with the improvement our current players have made, and some additions that we are really excited about, those are areas that we can definitely see some progress."
Freshman forward Ioanna Chatzileonti is perhaps the biggest reason to believe the Jayhawks could improve in those two areas of the game. Chatzileonti, who is 6-foot-2, is from Athens, Greece and was actually the youngest member of the Greek National Team.
Chatzileonti was a bronze medalist in 2019 with the Greek National team, leading the squad in rebounding and was second on the team in scoring.
During Late Night in the Phog, Chatzileonti flashed her unique versatility on one of the first plays of the scrimmage. She grabbed the ball on a turnover, and proceeded to bring the ball down the court and fire up a floater on the other end.
While on the broadcast with play-by-play announcer Jimmy Chavez, Schneider mentioned how rare it is for him to have a post of her caliber.
"Ioanna is a player that we are really, really excited about," Schneider said on the broadcast. "We feel like we can run a lot of offense through her. We haven't had that type of point production from our five-spot. She's going to allow us to run a lot of offense through the post."
In addition, KU brings back plenty of production from last year's squad that had five players average in double figures. Thomas (12.6 points per game), Franklin (12.1 ppg), Stephens (10.2 ppg) and Kersgieter (10.1 ppg) are all back and looking to build off last season.
Thomas, a 5-foot-7 junior guard from Duncanville Texas, started in 28 of KU's 29 contests last season. She led the Jayhawks in scoring on nine different occasions. Of her 21 double-digit scoring outputs, eight of them occurred in the final nine outings.
Franklin, a 5-foot-7 sophomore from Lakeland, Florida, will look to build off an impressive rookie campaign. Franklin, who started in all 29 games, was the third Jayhawk to ever be named to the Big 12 All-Freshman team.
"I think (she) had an outstanding freshman season," Schneider said of Franklin on Big 12 Now. "In terms of building on it, she's really worked hard in the offseason and added some things to her game."
Schneider is also excited about the growth of Kersgieter, who displayed her shooting ability during her first collegiate season. As a freshman from Sand Springs, Oklahoma, Kersgieter shot 40.5% from long range. It was a single-season mark that ranked fourth in the all-time record book.
Kersgieter scored a career-high 24 points in her collegiate debut against Indiana State, but her encore campaign figures to be even better.
"I think she's probably our most-improved player over the summer months," Schneider said during his interview with Chavez on the Late Night broadcast. "It wouldn't surprise me if she leads our team in scoring."
KU will probably be forced to lean on its returners early on, as this year's schedule is expected to be more difficult than usual out of the gate.
Not only do the Jayhawks not get any exhibition games, but they will open Big 12 play earlier with a home matchup against Oklahoma on Dec. 10. KU will face Northern Colorado, Texas A & M-Corpus Christi (Nov. 29), Mississippi (Dec. 3) and Oral Roberts (Dec. 6) before that meeting with OU.
"We are fortunate that we are going to be able to play a few nonconference games prior to Big 12 play," Schneider told Chavez on the broadcast. "Practices are going to be really, really important. We are without exhibition games or scrimmages, so we have to make the most of every day."
Tipoff between Northern Colorado and Kansas is slated for 6 p.m. Wednesday.
2020-21 KU women's schedule
Nov. 25 – vs. Northern Colorado
Nov. 29 – vs. Texas A & M-Corpus Christi
Dec. 3 – at Ole Miss
Dec. 6 – vs. Oral Roberts
Dec. 10 – vs. Oklahoma
Dec. 14 – vs. UT-Rio Grande Valley
Dec. 17 – at Texas
Dec. 21 – vs. North Dakota State
Dec. 29 – vs. New Mexico State
Jan. 2 – vs. West Virginia
Jan. 6 – at Iowa State
Jan. 9 – at Oklahoma State
Jan. 13 – vs. Baylor
Jan. 17 – at TCU
Jan. 20 – vs. Texas Tech
Jan. 23 – vs. Kansas State
Jan. 27 – at Oklahoma
Jan. 30 – vs. Oklahoma State
Feb. 3 – at Baylor
Feb. 6 – vs. TCU
Feb. 10 – at West Virginia
Feb. 13 – at Kansas State
Feb. 17 – vs. Iowa State
Feb. 20 – at Texas Tech
Feb. 24 – vs. Texas