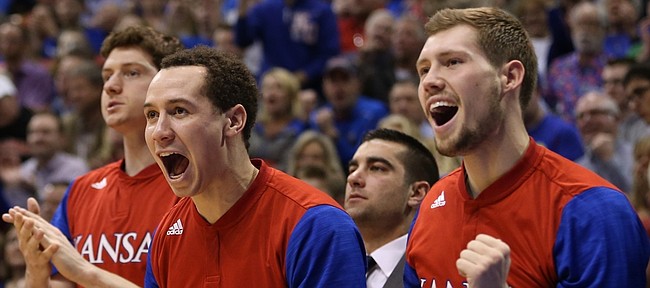 It's not often that a first-year graduate assistant is a popular part of a matchup between top-10 college basketball programs.
But that figures to be the case this week, leading up to No. 6 Kansas facing top-ranked Gonzaga in the Fort Myers Tip-Off in Fort Myers, Fla.
Former KU walk-on Evan Manning, the son of Kansas legend Danny Manning, is now on Gonzaga coach Mark Few's staff and is helping prepare the Zags to face his alma mater at 12:30 p.m. Thursday on FOX.
Few people associated with college basketball — and almost none outside of Lawrence — have as much knowledge about and connection to the KU program as Manning, stemming from his days growing up in Lawrence and his four seasons as a player on the team from 2012-16.
But as much he's enjoying the task of trying to help Gonzaga figure out a way to crack the Kansas code, Manning told the Journal-World on Monday that he was looking forward to seeing some familiar faces while also getting an up-close look at the way Self's attack has changed since he left town.
"It definitely feels a little different," Manning told the Journal-World on Monday afternoon. "I've watched so many KU games the past four years as a fan, and now, watching them from a scouting standpoint, I just gain so much respect for Coach Self and the staff because of how well the team is coached and how prepared they are."
It's been four full seasons since Manning was on the Kansas roster. And KU coach Bill Self has changed his attack plenty during the past four years.
After leaving Lawrence, Manning worked for three seasons as the director of player development on his father's staff at Wake Forest.
When Danny Manning was fired by Wake this summer, Evan quickly landed the opportunity at Gonzaga, where he not only is soaking up every bit of coaching wisdom he can get from Few but also working toward a graduate degree in organizational leadership.
Naturally, the younger Manning, 27, said he has visions of following in his dad's footsteps as a head coach at some point in his life, as well.
"One day, long down the road, that would be awesome," he said. "I'm not rushing the process, though. I just want to keep learning about the game."
As such, his short stint with Gonzaga has been valuable because it has opened his eyes to an entirely different way of running a program and coaching the game.
"It's been great," he said. "I'm loving the staff and learning so much."
Regardless of which side wins, his current team or the one he played for, Manning said he was looking forward to being part of a big time game to help open the 2020-21 college basketball season.
"I'm excited to see everyone," he said. "But once it's tipped, it'll be down to business. It will be good to see our guys on the court again in such crazy times. A little sense of normalcy."
Manning is not the only one who will be experiencing a reunion of sorts on Thursday. Gonzaga assistant Roger Powell Jr., also is getting a chance to see his old coach in Self, who he played for at Illinois during the 2001-02 and 2002-03 seasons.
Powell is in his second season with the Zags. He worked for three years as an assistant at Vanderbilt prior to heading west to Spokane, Wash.