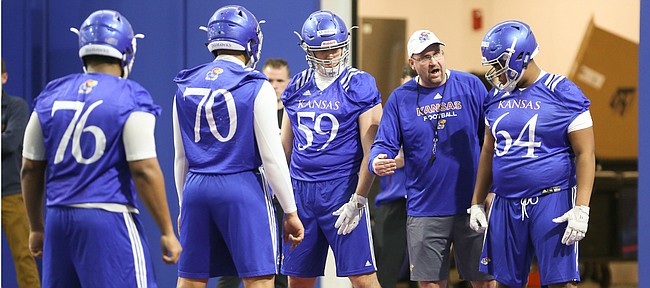 Kansas football coach Les Miles has fired offensive line coach Luke Meadows seven games into a season filled with O-line issues, the university announced Friday afternoon.
Meadows was in the second and final guaranteed year of a contract he signed in December of 2018, when he became one of the first few assistants hired by Miles at KU.
"I am very appreciative of everything Coach Meadows has done for this program in his two seasons here," Miles said in a news release. "I look forward to using our last three games as an opportunity to continue to improve as a team, and (I) believe this decision supports that."
John Morookian, a senior offensive analyst on KU's staff, will serve as the O-line's interim coach for the remainder of the season.
The Jayhawks (0-7 overall, 0-6 Big 12) have one of the worst offenses in the country this season, and ineffective blocking up front has contributed to the problems. KU currently averages just 15.1 points per game (121st out of 126 FBS teams), 113 rushing yards (111th), 151.4 passing yards (111th) and 264.4 total yards (122nd). The Jayhawks' quarterbacks have been sacked an FBS worst 38 times (5.43 sacks allowed per game).
Meadows received $200,000 a year for his annual base salary. His contract was scheduled to expire on Dec. 31 of this year unless KU had exercised an option to keep him around. The contract included options for two more years.
According to the terms of the contract, KU will only owe Meadows whatever amount he was set to receive between now and the end of 2020.
Morookian, Meadows' temporary replacement, joined Miles' staff this year. Before coming to KU, he was a quality control staffer for Iowa State's offense in 2018 and 2019 and had also worked as a graduate assistant at Indiana and Toledo.
Morookian will lead the KU O-line in a game for the first time on Nov. 28, when the Jayhawks host TCU (7 p.m., FOX Sports 1). KU was originally scheduled to play Texas this week, but that game was pushed back to Dec. 12 because KU didn't have enough defensive linemen available to meet Big 12 playing requirements.