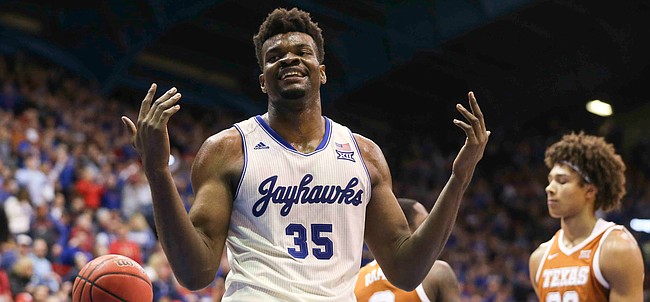 Former Kansas big man Udoka Azubuike has a new home and those who brought him there believed he was "the best player available" on Wednesday night, when the Utah Jazz made him the 27th overall pick in the NBA draft.
"We felt at the end of the day (that) Dok was the best defensive player and the best player available given his production and unique attributes," said Utah general manager Justin Zanik in a Zoom call with Utah media following the draft. "That ruled the day. That unique talent won out."
Added assistant GM David Morway: "His lateral quickness is unique for a man his size. It's important for us to have a big who can cover a lot of space with his length and his feet. It'll take him awhile to adjust, but he has the ability to do that. He's an extremely competitive big, and he wants to get better. And he has — he's improved something every year. That's something that stood out to us."
Azubuike also joined the Utah media for a Zoom call after he was drafted Wednesday night, and, according to the Salt Lake Tribune, he told them his focus leading up to the draft had been on improving his ball-handling, extending his jump shot out to 15 feet, improving his consistency on free throws and losing weight.
He also said he was not worried about where he would be picked or what team would take him simply because the goal would have been the same wherever he landed.
"I know what I bring to the table," Azubuike said on the Zoom call, according to the Tribune's Eric Walden. "I know what I can bring to a team. Wherever a team drafts me, I know I'm going to have to go there and work hard and prove myself. I wasn't thinking at all about where I was drafted at. I've just been focused on working hard."
Azubuike also said the opportunity to team up with Jazz all-star Rudy Gobert created the perfect situation for him.
"I'm so excited to play alongside Rudy, a defensive specialist — that's mostly what I did at Kansas," Azubuike said. "I had a similar role, to affect the game defensively. So I'm excited to learn from him."
Rookie of the Year odds
According to BetOnline.ag, Azubuike is a 66/1 favorite to win rookie of the year during the 2020-21 season.
That ranked him in a tie for 23rd among a large group of players who were selected in Wednesday's draft.
As expected, No. 3 overall pick LaMelo Ball (9/2), No. 1 pick Anthony Edwards (5/1) and No. 2 pick James Wiseman (11/2) were listed as the top three favorites to win rookie of the year.
Despite not getting drafted, former KU point guard Devon Dotson was listed as an 80/1 favorite. Dotson reportedly agreed to a contract with the Chicago Bulls after the draft.
Sixteen others were listed behind Dotson at 100/1, and a handful of them were actually drafted.
SportsBetting.com lists Azubuike as a 75/1 favorite and Dotson at 100/1. Both are still ahead of 16 rookies who are listed as 125/1 picks to win the award.
Salary numbers
There was a little more clarity on Thursday on Azubuike's soon-to-be-signed NBA contract and how much it will pay him during his time with the Jazz.
According to RealGM, which lists the rookie salary scale for all 30 picks of the first round, Azubuike is slated to make $1.65 million in Year 1 and $1.73 million in Year 2 with the Jazz.
The third and fourth years are team options, with Year 3 holding a $1.81 million slot and Year 4 potentially being worth more than $3 million, a maximum of an 80.4% increase on his Year 3 salary.
Details of Dotson's two-way contract with the Bulls have not yet been released.