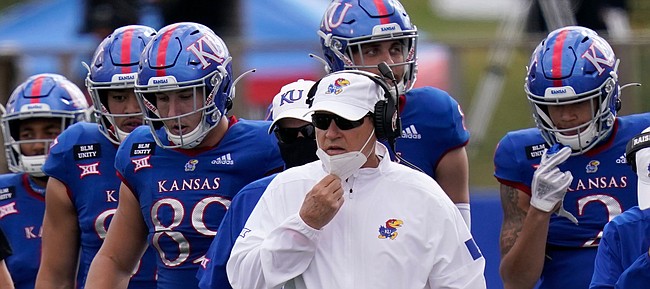 As multiple college football games across the country got postponed or canceled each week throughout the past couple of months of the pandemic, the Kansas football schedule somehow remained unharmed through seven games.
That streak of good fortune ran out on Wednesday, though, as KU's athletic department announced there will be no football played in David Booth Kansas Memorial Stadium on Saturday.
KU had to postpone its scheduled matchup with Texas, as the Jayhawks are unable to meet the Big 12's minimum thresholds for competition. Head coach Les Miles said on his weekly "Hawk Talk" radio show Wednesday night that the Jayhawks were "missing a bunch of guys on the defensive line."
Miles also shared that injuries and COVID-19 impacted the position group. Per Big 12 rules this year, a team has to have at least four interior defensive linemen available.
The KU-UT game was moved to Dec. 12, a week after what was supposed to be the Jayhawks' 2020 finale at Texas Tech. KU's coach called the move a "wise decision."
"I know our players wanted to play," Miles added, sharing that he told them the news earlier in the day. "But they didn't want to play if we didn't have our best team."
According to KU, the football program has gone through 825 COVID-19 tests since Nov. 8, with five returning positive on different testing days during that time span.
The Big 12 decided before the season began that a team dealing with positive COVID tests must have 53 players available, as well as at least seven offensive linemen, four interior defensive linemen and one quarterback. If all of those thresholds are met for both teams, a game can be played. The Big 12 also determined at that time a team, if it so chooses, has the option of playing anyway, even if it doesn't meet those thresholds.
Of course, KU already had run into issues with COVID-19 this year, most notably as head coach Les Miles contracted the virus and missed the Jayhawks' loss at West Virginia on Oct. 17 as he isolated.
More recently, contact tracing protocols that come with a positive test led to KU quarantining starting offense linemen Api Mane and Adagio Lopeti, who missed the Jayhawks' loss to Iowa State — and that instance proved to be tied to a false positive.
In KU's most recent loss at Oklahoma on Nov. 7, positive COVID-19 testing results for unspecified athletes led to defensive line starters Marcus Harris and Da'Jon Terry being withheld from competition.
Coming off their third bye week of the pandemic-altered 10-game season, the Jayhawks (0-7 overall, 0-6 Big 12) now will go three weeks between games, with their next date on the schedule coming Nov. 28 at home versus TCU.
According to Ralph D. Russo of the Associated Press, as of Wednesday afternoon, 14 FBS games out of the 62 scheduled for the weekend had been called off due to some form of COVID-19 concerns. Just a week ago, 15 of 59 FBS games were wiped out.