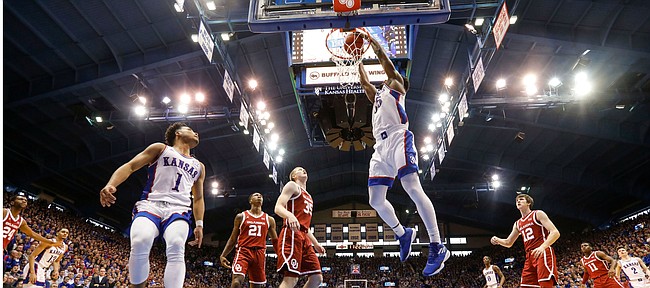 Wednesday night, nearly five full months after they were expecting to know, former Kansas basketball All-Americans Udoka Azubuike and Devon Dotson finally will find out where their NBA careers will begin.
It's draft day in the NBA.
Five weeks after the pandemic-altered 2019-20 season ended with a Los Angeles Lakers championship, and five weeks before another season begins, 60 prospects will hear their names called by NBA officials in a virtual setting starting at 7 p.m. on ESPN.
According to every major draft site out there, Azubuike and Dotson are expected to be among them. And Kansas coach Bill Self believes that the extra time between the end of their college careers and the NBA draft has served the two well.
"I think the testing has to have teams excited about both of them, at least a little bit more than they were before," Self said.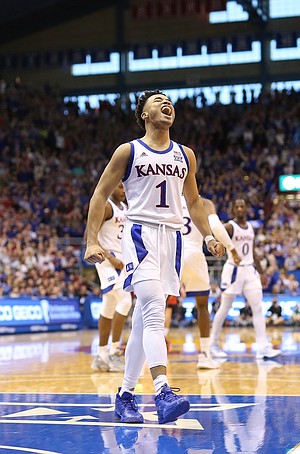 The KU coach noted Azubuike's recent 37-inch vertical jump, which was the highest by a center ever measured at the pre-draft combine, and Dotson's three-quarter court sprint time that was the second fastest of the past decade.
"That's got to tell people that he's got a gear that most guys can't get to," Self said of Dotson, who will watch the draft with friends and family in Charlotte, N.C. "And we've been telling everybody forever that Dok's as athletic as anybody we've had here period. And I don't think people ever bought into it."
"I don't think that gets them drafted necessarily a lot higher," Self added. "But I do think it makes them more attractive. (If a team has it) down to one or two guys, they may go with that athletic ability. So I'm excited for both of them. I think they both help themselves during this COVID time."
Draft analysts have called the 2020 draft as unpredictable and uncertain as any in recent memory. And while that reality is most notable at the top and throughout the first 14 picks that make up the draft lottery, it extends all the way through the first round and into the second, where the two former KU stars are expected to land.
Regardless of where the two Jayhawks are selected, Self said their chances at NBA success will come down to how well they fit the situation and how willing they are to accept roles that are vastly different from the ones they played at KU.
"Being very realistic, if they could both be backups, that would be an unbelievable role for both of them going into a rookie campaign," Self said. "They're going to have to learn to play with others and make others better and (blend) in and those sorts of things."
No Jayhawks were drafted in last year's NBA draft, ending a 10-year streak of at least one KU player hearing his name called in the two-round draft.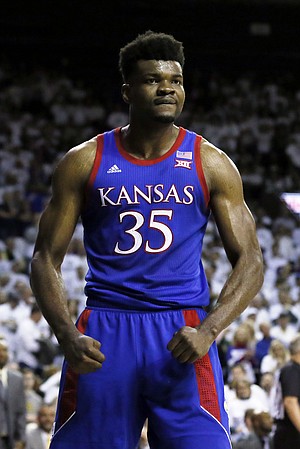 Throughout his time at Kansas, Self has produced 11 lottery picks, including a stretch of eight in a five-year span from 2010-14. In all, 25 Jayhawks who played under Self have been drafted in the past 16 years.
Here's a quick peek at where the two former Jayhawks were projected to go from the latest batch of mock drafts:
The Athletic
Azubuike: No. 43 to Sacramento
Dotson: No. 33 to Minnesota
ESPN.com
Azubuike: No. 41 to San Antonio
Dotson: No. 44 to Chicago
Yahoo Sports
Azubuike: No. 37 to Washington
Dotson: No. 33 to Minnesota
CBS Sports
Azubuike: No. 45 to Orlando
Dotson: No. 54 to Indiana
NBADraft.net
Azubuike: No. 43 to Sacramento
Dotson: No. 35 to Sacramento

SI.com
Azubuike: No. 47 to Boston
Dotson: No. 44 to Chicago
More coverage Wednesday:
Follow along with Matt Tait's draft day news and nuggets throughout the day Wednesday by checking out the latest "Tale of the Tait" blog.