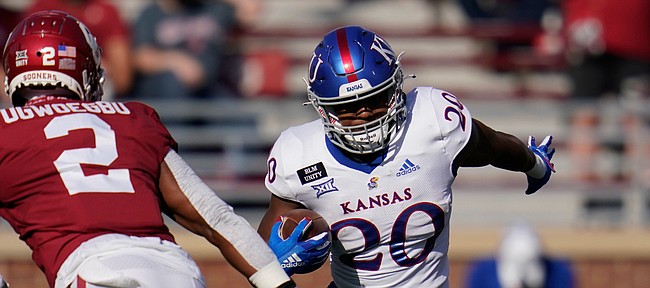 On a mostly forgettable recent Saturday for the Kansas football team, soundly defeated on the road by Oklahoma, one of the Jayhawks' promising young offensive players, Daniel Hishaw Jr., had what amounted to a career day.
Hishaw, a true freshman, got his first opportunity to serve as the primary running back and turned in new personal highs for carries (10) and rushing yards (73), while playing in Norman, Okla., roughly 12 miles away from Moore High School, where he was a prep star just a year before.
A 47-yard rush in the third quarter boosted Hishaw's contributions significantly and he ended up averaging 7.3 yards per carry.
Considering he started and spent the majority of the game at running back, why didn't KU incorporate him more into the offense?
"He was involved to a point where we felt like he could step in to protect and he could step in to run the football," KU head coach Les Miles said.
An undisclosed injury to KU's leading rusher, sophomore Velton Gardner (72 carries, 325 yards, 4.5 yards per carry, two touchdowns), opened the door for Hishaw. Yet KU didn't utilize him much as a rusher, handing the ball to Hishaw just five times in the first half (when he rushed for 15 yards), as the Sooners began piling up points.
The Jayhawks upped Hishaw's usage some in the third quarter, rushing him four times. But the game was so one-sided that by the fourth, KU began playing a lot of younger reserves, and freshman Amauri Pesek-Hickson ran 10 times for 43 yards in the game's final 11-plus minutes.
Hishaw (30 carries this year, 142 yards, 4.7 yards per carry, one TD) entered the season third on KU's running back depth chart, behind both Gardner and junior Pooka Williams, who opted out of the season after four games.
Miles maintained Hishaw will continue to be involved in the weeks ahead for KU (0-7 overall, 0-6 Big 12).
"We're going to give him more looks," Miles said. "He played extremely well and we're for him."
Hishaw, listed at 5-foot-10 and 222 pounds, is one of six true freshmen who have started for KU so far in 2020.
Miles said the young back has "great speed" to go with a powerful build.
"I think we're going to enjoy him for years," Miles predicted. "I think he's a different back than we have. I think he's elusive — I think other backs that we have are elusive, but at 220, he runs through some arms."
KU has its third and final bye of the season this week before returning to action on Nov. 21 at home versus Texas.