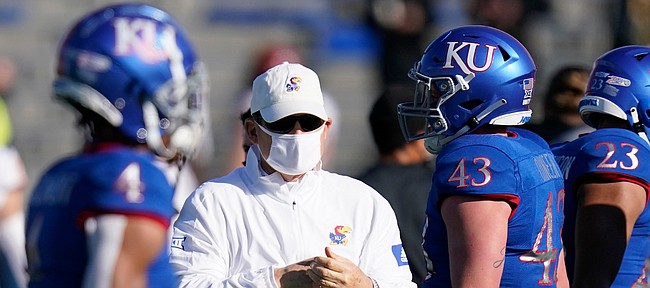 University of Kansas Athletic Director Jeff Long has heard the concerns and disappointments from fans and donors alike, regarding the KU football program. And in response, Long is asking the fan base for some tolerance during head coach Les Miles' rebuilding project.
The Jayhawks finished 3-9 in Miles' first season as head coach a year ago, and will need to pick up a victory at some point in their final three games of 2020 to avoid a winless season in Year 2 of the new regime.
"I know losing is tough," Long said, while addressing fans on a recent airing of "Hawk Talk," the athletic department's radio show. "And I know we've lost here for a long time. And I know our fans are frustrated. And I know they're impatient, because they've been told time after time to be patient. And I do understand that."
While asking the team's supporters for further leniency, amid what will go down as KU football's 12th losing season in a row, Long said it's "a different program" now, and pointed to the way Miles and his staff are planning to revamp it through recruiting and developing young players.
"We said from the beginning, we're starting a four- to five-year process. I'm not making that up now because we've lost some games. That has been the plan," Long said. "We're working that plan. We're doing it the right way, with the right kind of (players). We're doing it with high school (players)."
Without bringing up the name of David Beaty, the former KU head coach whom Long fired in November of 2018, a few months after he became KU's athletic director, Long referenced how recruiting a high number of junior college players in the past didn't help bolster the program.
Beaty and his staff signed 10 juco players in 2017, and 12 more in 2018.
"We're not going to do that," Long said. "Coach Miles has my commitment. I shared that when I took the position with Chancellor (Douglas) Girod. There's a commitment here to do this the right way."
Miles, who inherited a nearly empty 2019 recruiting class — the result of KU having a lame duck coaching staff — when he took over, signed five juco players in his first KU class: receivers Andrew Parchment and Ezra Naylor, quarterback Thomas MacVittie and defensive linemen Malcolm Lee and Caleb Sampson.
But as Miles and his assistants were in position to build the 2020 class for a full year, they signed nothing but high school prospects. Plus, a little more than a month out from the Class of 2021 early signing period, all of KU's commitments are from high school players.
Long touted how this year, during Miles' second season, a slew of players from his initial 2019 recruiting class are playing important roles. That group includes senior receiver Parchment, sophomore safety Kenny Logan Jr., sophomore running back Velton Gardner, redshirt freshmen defensive linemen Marcus Harris and Da'Jon Terry, sophomore linebacker Gavin Potter, redshirt freshman outside linebacker Steven Parker, sophomore tight end Mason Fairchild and junior defensive linemen Lee and Sampson.
Of course, the Jayhawks (0-7 overall, 0-6 Big 12) are turning to more true freshmen the deeper they get into the season, too. Six true freshmen — cornerback Karon Prunty, quarterback Jalon Daniels, receivers Luke Grimm and Lawrence Arnold, running back Daniel Hishaw Jr., and offensive lineman Armaj Adams-Reed — have started at least one game. As defensive lineman Caleb Taylor and tight end Will Huggins played for the first time this season in KU's loss at Oklahoma, they brought the total number of true freshmen who have at least appeared in a game this season to 24.
Including walk-ons, KU has 37 true freshmen on the roster this year — the most in the Big 12 and the fifth-most among Power Five programs.
"Many of them are playing," Long said of KU's 2020 recruiting class. "We're suffering through that right now. I think you all can see the talent that we have, that younger talent and their ability to be more athletic and productive. They're inexperienced. And they're going up against programs that have had guys in their program four and five years. That's what we're going to be in year four and five."
Long said he has as much confidence now in Miles as he did when he hired the former LSU and Oklahoma State head coach nearly two years ago. Long insisted no one hates losing as much as he and Miles do, and the A.D. requested patience from KU football fans who are starving for winning season.
"No matter what we are sticking to the plan," Long said of recruiting high school players and developing them. "There may be more tough times in front of us. I'm not going to say there isn't. But we are sticking to the plan. I am confident. I know when we get in that third, fourth, fifth year, we're going to have a program that can compete consistently, week in and week out, with very highly developed (players), very conditioned and trained."
Miles, who turned 67 this week, signed a five-year contract when he joined KU, and the agreement runs through the 2023 season.