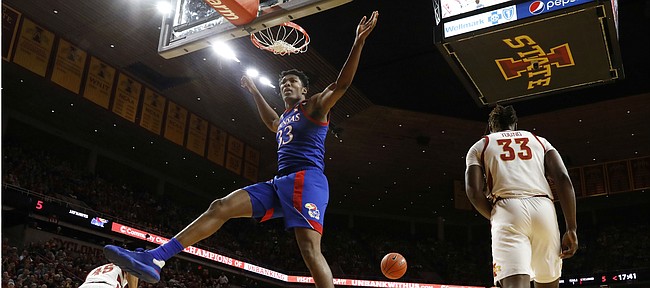 The Kansas men's basketball team will open the season as the No. 6-ranked team in the country.
The Jayhawks, who finished the 2019-20 season on top of the Associated Press Top 25 poll, were slotted in the No. 6 spot when the first poll of the 2020-21 season was released on Monday.
KU's presence in the poll moved the Jayhawks into a tie with UCLA for the all-time record of consecutive weeks in the AP Top 25 at 221.
In addition, Kansas has now been ranked seventh or higher in the preseason AP poll in eight consecutive seasons and 11 of the last 12.
Kansas is the second-highest-ranked Big 12 Conference team in this year's preseason poll, behind No. 2 Baylor.
Gonzaga, which KU will face on Nov. 26 in Fort Myers, Fla., to open the 2020-21 season, edged out the Bears by one point and four first-place votes. It was the first time the Zags had ever been ranked No. 1 in the preseason poll.
"It's a great honor to be selected No. 1," Gonzaga coach Mark Few told the Associated Press. "We understand that it is more a reflection of what our program has accomplished over the years and hope to play up to that standard as we start our season."
Baylor's preseason ranking was also its highest in school history. Both programs, like the Jayhawks, spent time at No. 1 during the 2019-20 season.
Villanova, Virginia and Iowa rounded out this week's top five.
Big 12 programs Texas Tech (No. 14), West Virginia (No. 15) and Texas (No. 19) also appeared in this week's poll.
In all, 12 games on KU's 27-game 2020-21 schedule will come against teams ranked in the preseason poll. Joining Gonzaga and the four other Big 12 programs on KU's schedule are No. 10 Kentucky (Dec. 1 in the Champions Classic), No. 11 Creighton (Dec. 8 at Allen Fieldhouse) and No. 12 Tennessee (Jan. 30 in the SEC/Big 12 Challenge).
"That's a top-five schedule probably in America, regardless of anybody else in who they're playing," KU coach Bill Self recently said.
With no exhibition games on the schedule this season because of the COVID-19 pandemic, the Jayhawks' first test will be against the No. 1 team in the country.
In order to prepare for that kind of challenge — not to mention starting the season against two top-10 teams in the first three games — Self said the Jayhawks were focused on making practices as close to game-type settings as possible.
"We're trying to hold as many scrimmage situations with officials as we possibly can," Self said. "So we'll scrimmage at least twice a week from this point forward."
AP Preseason Top 25
1 - Gonzaga, 1,541 (28)
2 - Baylor, 1,540 (24)
3 - Villanova, 1,501 (11)
4 - Virginia, 1,364 (1)
5 - Iowa, 1,273
6 - Kansas, 1,221
7 - Wisconsin, 1,150
8 - Illinois, 1,105
9 - Duke, 1,073
10 - Kentucky, 1,038
11 - Creighton, 922
12 - Tennessee, 919
13 - Michigan State, 820
14 - Texas Tech, 790
15 - West Virginia, 651
16 - North Carolina, 465
17 - Houston, 438
18 - Arizona State, 402
19 - Texas, 380
20 - Oregon, 375
21 - Florida State, 351
22 - UCLA, 336
23 - Ohio State, 270
24 - Rutgers, 190
25 - Michigan, 160
Others receiving votes: LSU 146, Memphis 69, Florida 69, Alabama 50, Indiana 48, Louisville 41, Richmond 40, Stanford 14, Providence 9, Saint Louis 8, Auburn 8, San Diego State 6, Connecticut 6, BYU 4, Loyola Chicago 3, Seton Hall 2, UNC Greensboro 1, Northern Iowa 1