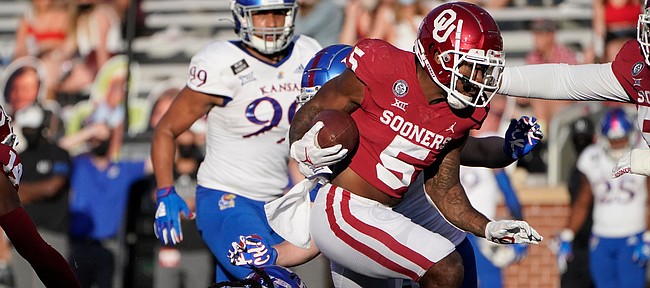 The Kansas football defense's chances of disrupting the Oklahoma offense at the line of scrimmage took a pair of blows before Saturday's game in Norman, Okla., even began.
Redshirt freshmen defensive linemen Marcus Harris and Da'Jon Terry were among the Jayhawks who did not dress in the 62-9 road loss, and head coach Les Miles indicated afterward that positive COVID-19 testing results kept them out.
With a number of Jayhawks unavailable, Miles was asked during his postgame video press conference whether KU was hit hard by COVID this week.
"Yes, we were," Miles replied. "Right in the center of our defense, times two."
Miles didn't specify whether both D-linemen tested positive or if contact tracing protocols forced them to quarantine.
Both Harris and Terry started together for the second time this season a week earlier, when KU set a new season high for quarterback hurries in a loss to Iowa State.
Terry entered the weekend leading KU in sacks with two, and Harris had recorded 6.5 tackles for loss during the Jayhawks' previous three games alone.
No update on Daniels
KU starting quarterback Jalon Daniels, who injured his left leg when he was sacked for the ninth time by OU on Saturday, could be seen limping on the visitors' sideline late in the game.
Document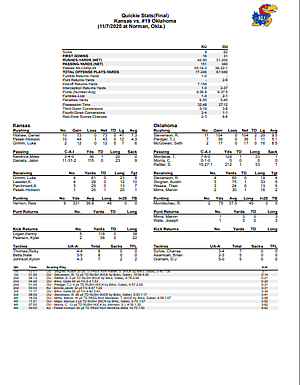 Miles didn't have an update on the severity of the injury, but said he spoke with the QB after the loss. According to KU's coach, Daniels shared with him that his leg "feels a lot better."
"I don't know to what extent that means," Miles went on. "But I know he's going to work hard and do everything he can to be back."
No Gardner, either
KU's starting running back, sophomore Velton Gardner, missed a game for the first time this season. Miles said an injury forced Gardner out of the lineup at OU, but didn't reveal what type of setback he suffered.
Gardner is KU's leading rusher this season, averaging 54.2 yards per game and 4.5 yards per carry, with two rushing touchdowns.
In his absence, true freshman Daniel Hishaw Jr. rushed for 73 yards on 10 carries, with 58 yards coming in the second half of the blowout defeat.
In the fourth quarter, freshman running back Amauri Pesek-Hickson entered, and ran for 43 yards on 10 attempts.
As a team, KU ran for 95 yards, averaging 2.3 yards per carry.
O-line not totally intact
While KU had starters Api Mane and Adagio Lopeti back in the starting lineup versus the Sooners, the Jayhawks were without would-be starting right guard Chris Hughes this week.
Miles said the senior O-lineman was hurt and Hughes "probably" will be back following KU's upcoming bye week.
Lopeti started at right guard for Hughes and Earl Bostick Jr. started at right tackle.
Other unavailable contributors
KU's did not dress list for the game at OU also included receivers Stephon Robinson Jr. and Lawrence Arnold, as well as linebacker Denzel Feaster and punter Kyle Thompson.
"We're nicked up," Miles said. "You probably could put a good roster together just with the guys that we have nicked. The good news is they're not major surgeries and they're not going to be out for quite some time."
Road streak extended
As the Sooners beat KU for the 16th time in a row, KU's extensive Big 12 road losing streak lived on, as well.
Saturday marked the program's 53rd consecutive defeat in a Big 12 opponent's stadium.
The Jayhawks haven't won a true road game in Big 12 play since their 2008 trip to Iowa State. KU only has one road game left in 2020: its season finale at Texas Tech.