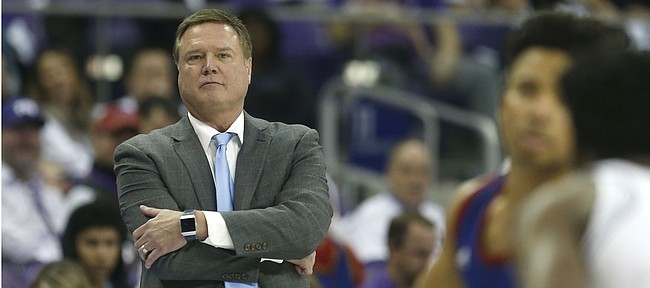 The Kansas men's basketball team is no closer to setting its rotation for the upcoming season today than it was when practices first began a few weeks ago, but that's not because KU coach Bill Self is without options.
"It's a different guy every day right now," Self said during a Zoom meeting with the media on Thursday, when asked who had stood out the most during recent team scrimmages.
"There's been some separation," Self added. "(There are) three or four guys we know (are) going to be starters. But with the fifth guy, there's no separation."
The competitive nature and overall talent of KU's fifth, sixth, seventh and eighth men fighting for time in this year's rotation illustrates perfectly the kind of depth the 2020-21 Jayhawks have.
That's particularly true in the backcourt, where Self said he could see playing as many as six players double-digit minutes on a regular basis.
"The most I've ever played on the perimeter was five," he said.
Part of the reason for the potential to expand his guard rotation by one this season is because Kansas is likely to play four guards the majority of the time and has even dabbled with five-guard lineups during the preseason.
However, Self said all of the players currently battling for spots in KU's deep backcourt would be worthy of minutes one way or another.
"You can make a case that Tristan Enaruna, Jalen Wilson, Tyon Grant-Foster or Bryce Thompson should and could all be starters two days a week," Self said Thursday. "And you could make a case that Ochai (Agbaji) Christian (Braun), Marcus (Garrett) and David (McCormack) are starters seven days a week. We don't know how it's all going to play out."
That group, along with redshirt freshman guard Dajuan Harris and senior forward Mitch Lightfoot, is likely to make up KU's rotation for most of the 2020-21 season.
During his previous 17 seasons at KU, Self has played anywhere from as few as six players to as many as 10 on a regular basis, depending, of course, on the makeup of each roster.
At Illinois, Self typically played nine players, using four big men and all but encouraging fouling so the four front court players would always play hard and so there would be plenty of minutes to go around.
On Thursday, Self said he likely would max out this season's rotation at eight or nine players, with newcomers Latrell Jossell and Gethro Muscadin providing depth and insurance.
"When I'm talking about eight or nine, I'm talking about guys who are playing double-digit minutes," he said. "That doesn't mean somebody else can't get in the game.
Self said specific matchups, who's hot and who's not and in-game issues such as foul trouble or a shooting slump all could alter his plans at any point this season.
The fact that so many of his younger players and newcomers who lack starting experience have performed well and been able to push KU's veterans gives Self confidence that there's enough talent on this roster to field a high-quality team.
"They're good enough to be in the game when the starters aren't in," Self said of the bottom half of KU's likely rotation. "So it's not a bad problem. It's probably a good problem to have."