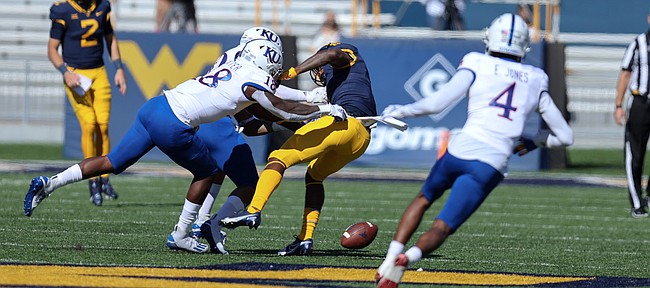 When the Kansas football team travels to face No. 19 Oklahoma this week, it will be without Denzel Feaster, one of its starting linebackers, for a second week in a row.
Although KU head coach Les Miles didn't provide the specifics on what kind of setback Feaster, a senior inside linebacker, is dealing with, Miles revealed on Wednesday night during his "Hawk Talk" radio show that Feaster will be out of the lineup again when the Jayhawks face the Sooners on Saturday (2:30 p.m., ESPN).
Feaster, who didn't dress for KU's home loss versus Iowa State this past weekend, remains "a little nicked," according to Miles.
"We're not so certain how we'll get him back," Miles said of the possibility of Feaster returning to the lineup.
In the first five games of the season, Feaster made 20 total tackles, with 1.5 tackles for loss and a forced fumble.
More on Prox
The Jayhawks (0-6 overall, 0-5 Big 12) were down two starting linebackers for the ISU loss, with Feaster injured and junior Dru Prox opting out ahead of the home game.
Miles had a little more information on Prox's opt out during "Hawk Talk."
KU's head coach said Prox, a junior starting linebacker from Kaufman, Texas, decided to go back home because of a personal situation involving some loved ones.
"His family needs his presence," Miles said. "He has a son and a brother that's in a tough way."
Though Prox only played in three games before leaving for the remainder of the season, he still ranks fourth on the team with 23 total tackles. Prox also had 3.5 tackles for loss and a sack.
Miles said previously he hopes Prox will return to the program for next season.
Other LBS stepping up
Without Feaster and Prox against ISU, the Jayhawks promoted sophomores Gavin Potter and Nick Channel to starting roles.
It was Channel's second fill-in start for the season and he led KU with eight total tackles.
"He was going to be a good player. We knew that," Miles said of Channel, who earlier this year also finished with eight tackles in a start against Oklahoma State. "But when he stepped on the field and played like he did it made a tremendous difference."
Potter, who made his second consecutive start, was credited with two quarterback hurries and made five total tackles in KU's 52-22 loss to ISU.
Both Channel and Potter now project as starters for the Jayhawks' trip to OU (4-2, 3-2).