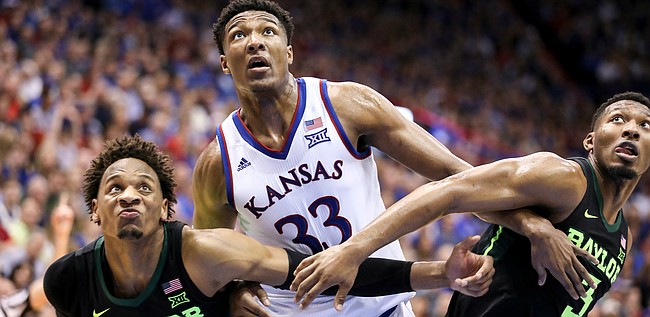 Kansas fans have grown accustomed to seeing the men's basketball schedule play out as one of the most difficult in the country year after year.
But according to the initial 2020-21 KenPom.com rankings, which were released late Tuesday night, the upcoming season could present the Jayhawks with a tougher challenge than ever.
"Our schedule, pre-COVID, would probably (have been) as hard as any schedule we've put together nonconference," KU coach Bill Self said last week. "We have adjusted our schedule (to what we think) best fits us. If four out of nine nonconference games are against preseason top-12 teams in America, and that's before you play your league, I still think that will put our schedule up there (as) one of the best."
Seven programs on KU's 2020-21 schedule are listed in the top 13 of the KenPom rankings, and Kansas, as of today, is slated to play at least 11 games against those seven opponents.
Four of them are Big 12 foes, which Kansas is scheduled to play twice — at home and away — and KU also could face one or two of them in the Big 12 tournament in Kansas City, Mo., next March.
No. 1 Baylor, No. 6 Texas Tech, No. 8 West Virginia and No. 9 Texas join fifth-ranked Kansas in KenPom's preseason top 10.
The three highly ranked nonconference foes expected to be on KU's 2020-21 schedule are No. 2 Gonzaga, Nov. 11 Kentucky and No. 13 Creighton.
Other notable KU opponents near the top of the first batch of KenPom.com rankings include Tennessee (No. 20), Oklahoma (No. 31) and Oklahoma State (No. 33), which will account for five more games on KU's 2020-21 schedule.
Although KU's season-opening clash with Gonzaga in Fort Myers, Fla., has yet to be officially announced by either school, the expectation remains that Kansas and Gonzaga will tipoff the college basketball season against each other on Nov. 25. That game, if it happens, would set the tone for a string of early-season games that will test this new-look Kansas squad.
Asked last week if he liked the way KU's rebuilt schedule came together, Self said simply, "We have to be."
With eight games against nonconference foes already identified, officially or unofficially, Kansas still could add one more non-con game and fall within the limit of the NCAA's 27-game maximum for the 2020-21 season.
However, just because KU has room to schedule one more game, that does not mean the Jayhawks will.
"We still have one more game to schedule," Self confirmed last week. "And the question is do we try to schedule one and squeeze it in where it may not fit perfectly. Or are we better off, in a year like this, maybe just to play 26 games? "We don't know. We're still trying to figure out if there's a perfect scenario out there for us."
Here's a quick look at where the rest of KU's 2020-21 opponents landed in the initial KenPom rankings: TCU (No. 53), Iowa State (No. 67), Kansas State (No. 113), Saint Joseph's (No. 160), North Dakota State (No. 179), Omaha (No. 183) and Tarleton State (No. 335).