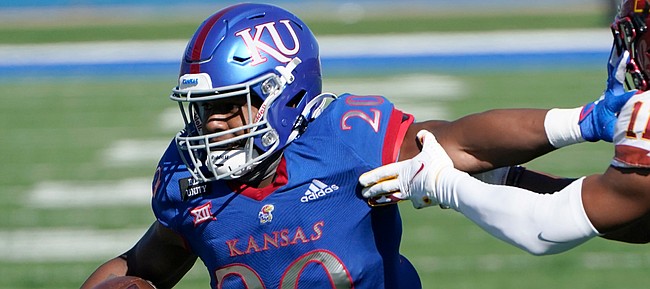 Daniel Hishaw Jr. wasn't a recruit who generated a ton of buzz in Kansas football's most recent signing class. But once the freshman running back arrived on campus this past summer, some of his new teammates didn't even need to see him play to be impressed.
"We knew Daniel Hishaw, from the very first time we saw his legs, that he was going to be something special," KU receiver Andrew Parchment remembered.
Those legs have proven powerful already, a few games into Hishaw's college career. And the 5-foot-10, 222-pound rusher from Moore, Okla., used his sturdy base, as well as his upper body strength, to score his first touchdown as a Jayhawk this past weekend versus Iowa State.
Early in the second quarter, on 2nd and goal at the ISU 5-yard line, KU fill-in center Chris Hughes didn't snap the ball to quarterback Jalon Daniels. Instead, Daniels lined up wide left and Hishaw took over in a wildcat formation.
Experienced in such situations as an athletic quarterback for Moore High (Okla.) as recently as a year ago, Hishaw took a moment after the ball reached his hands to read what was developing in front of him.
"For a second I was wondering what he was doing," Parchment said. "He was being very patient. But he's very strong."
That much was evident once Hishaw went into attack mode as a runner. The true freshman stiffarmed his first would-be tackler, shedding Lawrence White IV behind the line of scrimmage. Another Cyclone failed to hang on to Hishaw soon after, and the young back left a wake of defenders behind him as he headed into the south end zone.
Daniels became giddy when asked what Hishaw displayed on that particular play.
"Ooh, hoo hoo," a grinning Daniels began. "He showed a lot of strength right there."
The power Hishaw has as a runner reminds Daniels of former NFL pro bowler Marshawn Lynch.
"He doesn't go down after that first hit," the QB said of Hishaw. "He's going to keep on pounding the ball, pounding the ball. He's a downhill runner. And that's what I love about Daniel."
While Hishaw is technically one of five true freshmen who already has started at least one game this season for KU (0-6 overall, 0-5 Big 12), at this stage of his career he's more of a reserve back. Through his first six games as a Jayhawk, Hishaw is averaging 3.3 rushing attempts, 11.5 yards per game and 3.5 yards per carry.
He became a more prominent part of KU's offensive game plan, of course, in recent weeks, after Pooka Williams opted out of the rest of the season.
For all of his strength, Hishaw's freshman season hasn't come without its challenges. Hishaw finished with only two net yards of rushing against ISU on six carries, a week after he had 14 yards on six runs at Kansas State.
Statistically at least, Hishaw's best game for KU came with him finding more opportunities late in a blowout loss to Oklahoma State.
Though Hishaw's 51 yards on five carries came against second-string defenders in the fourth quarter that day, former KU running back and current sideline reporter Brandon McAnderson said Hishaw impressed him.
"The long run that he had," McAnderson pointed out of a 15-yard gain, "there were three people in the hole. And he ran right through them — not over them, but right through them."
KU's rushing attack often has lacked in the oomph department this fall, even before the team lost its preseason All-Big 12 back, Williams. And Les Miles has been up front about the fact that the Jayhawks need to be better in that department.
Entering this week's game at No. 19 Oklahoma (2:30 p.m. Saturday, on ESPN), KU is averaging 116 rushing yards per game (82nd out of the 103 teams that have played so far) and 3.09 yards per carry (89th).
But the Jayhawks were even less effective in their most recent loss, running for only 73 yards in their 52-22 defeat at the hands of ISU. It marked the second time this season they fell far short of 100 yards on the ground — WVU limited them to 62 rushing yards. And KU hasn't picked up more than 113 rushing yards in a game since going for 169 yards in its Big 12 opener at Baylor.
Yet Miles remains optimistic about what sophomore Velton Gardner (4.5 yards per carry this season, 54.2 rushing yards per game) and Hishaw can give the Jayhawks.
"He's a big, strong man," Miles said recently of Hishaw.