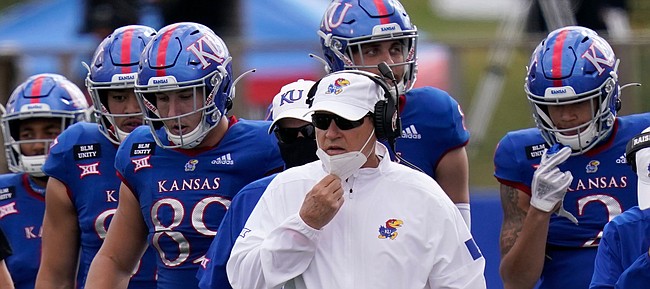 The Kansas football offense will once again be without two typical starters up front this week when the Jayhawks play at No. 19 Oklahoma.
KU head coach Les Miles said Monday senior center Api Mane and senior right tackle Adagio Lopeti will miss their second game in a row. Miles said the reason for the veteran offensive linemen's absences was COVID-19 tracing protocols, not a positive case for either of those two players.
With Mane out, senior Chris Hughes moved from right guard to center in the starting lineup against Iowa State this past weekend; KU started freshman Armaj Adams-Reed at right guard. Earl Bostick Jr., who had started earlier in the season at right tackle, filled in for Lopeti. The Jayhawks also played freshman Garrett Jones at center sometimes in the loss.
"I thought they held up really well," Miles said of KU's offensive linemen. "I thought they improved. I thought the youthful guys that stepped in there listened, got things accomplished and really I think the veterans that were there beside them helped them."
KU's starters on the left side remained the same, with sophomore Jacobi Lott at left guard and senior Malik Clark at left tackle.
KU (0-6 overall, 0-5 Big 12) will likely use the same lineup it had versus Iowa State when the Jayhawks take on OU (4-2, 3-2) on Saturday (2:30 p.m. kickoff, ESPN2).
Election Day off
The Jayhawks won't practice or go through any other type of team activities during Election Day, after the NCAA Division I Council approved a new rule earlier this year that allows athletes to have the first Tuesday after Nov. 1 free every year.
Hughes said he and other members of the program have spent time in recent months educating teammates about the voting process.
"My goal is for everyone to take advantage of it," Hughes said. "We've been encouraging and trying to help everyone get registered."
If needed, Hughes added, players also secured absentee ballots to vote. The veteran O-lineman said he encouraged other Jayhawks to make their own informed decisions.
"We feel like voting is extremely important here and we've been talking about getting in front of the guys, because a lot of them had no idea how to do it, how to get registered," Hughes said. "We'll be excited for the turnout."
Miles said the Jayhawks practiced late Sunday and again on Monday as they altered their schedule to accommodate for the football-free Election Day.
As for what the coaches and staff would be doing on the day off, Miles said "We're going to use it to get a little ahead."
"The players will have to sit and enjoy themselves after they get their voting done," he said.
Miles didn't know during his Monday press conference what percentage of KU football players were registered to vote.
"I encouraged them to get out and vote," the coach said, "and if they want to make a difference in this world, that was a very significant difference. Just vote."