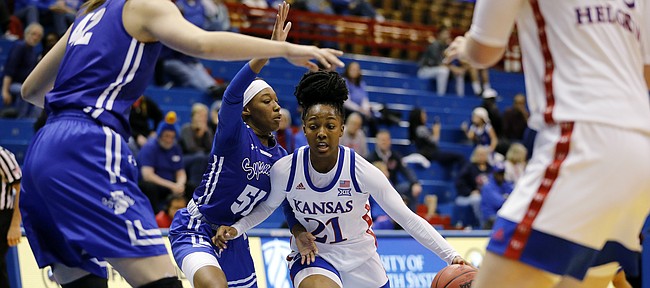 The Kansas women's basketball team will travel to Oxford, Miss., this season to take on Ole Miss in the SEC/Big 12 Challenge, the Big 12 Conference announced Thursday.
Dates and game times will be announced later.
Kansas is 3-1 all-time in the conference challenge, which began in 2014 and expanded to its current 20-team format in 2016.
Brandon Schneider's team defeated Florida at Allen Fieldhouse during the 2019-20 version of the event and also knocked off LSU during the 2018-19 season and Arkansas in 2017-18.
This season's matchup will be the third all-time between Kansas and Mississippi. The Rebels lead the series 2-0, with the most recent meeting coming in 2006, when Ole Miss knocked off KU 78-76 at Allen Fieldhouse.
The two conferences split the challenge, 5-5, in 2017 and 2018, and the Big 12 won eight of the 10 matchups last season.
The men's teams from both conferences have held a similar challenge for the past several years — this season, KU will play away on Jan. 30 against a yet-to-be-determined opponent — and Big 12 Commissioner Bob Bowlsby said in a news release that the event has been great for the exposure of both conferences.

"These contests provide high-quality matchups that prepare our teams for the rigors of Big 12 play, while showcasing the excitement of women's basketball," he said.
2020 SEC/Big 12 Women's Basketball Matchups:
• Kansas at Ole Miss
• Baylor at Arkansas
• South Carolina at Iowa State
• Kentucky at K-State
• Oklahoma at Georgia
• Alabama at Oklahoma State
• TCU at Missouri
• Texas A&M; at Texas
• Texas Tech at Vanderbilt
• Tennessee at West Virginia