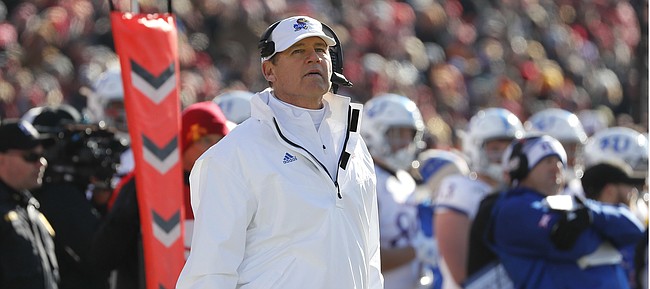 By now, the five new members of Les Miles' Kansas football coaching staff should have been through 15 spring practices, countless in-person meetings and had plenty of time to get acclimated to their new roles.
Instead, they've been stuck behind a computer and a camera lens for most of the past couple of months.
For KU football assistant coaches Joshua Eargle (recruiting coordinator/tight ends/fullbacks), Ben Iannacchione (strength and conditioning), Jordan Peterson (safeties), Chidera Uzo-Diribe (outside linebackers) and Jonathan Wallace (special teams coordinator/running backs) nearly everything about their daily routine is different today from what it was a year ago.
Eargle and Uzo-Diribe were at Kansas in 2019 but in supporting roles. Iannacchione, Peterson and Wallace were all at different schools.

Today, they're all in the same boat, with new offices, new roles, new responsibilities and new faces to know and names to learn.
The fact that so many of those faces have appeared in small squares on a computer screen instead of behind a helmet with a name written in black marker on a piece of tape across the top has made the transition more difficult than expected.
"If we had spring ball, there'd be a lot less anxiety by the assistant coaches," Miles recently told the Journal-World during a phone interview from his home.
Miles typically does not make assistant coaches available for interviews.
Despite spending the spring in a virtual coaching capacity instead of on the field, Miles said his assistants were making the most of their time and doing everything in their power to be ready for the day that football resumes.
A lot of that work has been done on the recruiting trail, where KU already has secured commitments from 11 players in the 2021 class.
But Miles said staff meetings, Zoom calls with the players and the chance to discover what technology can teach them about the game has helped the entire KU football staff push through these unusual times.
"The enjoyment of getting it done is still there," Miles said. "You raise the bar as far as it can be (raised) and expect a positive outcome and then you go perform."
The Big 12 Conference last week identified June 15 as the first day that Big 12 football players can return to campus for voluntary workouts. Kansas Athletics, which has opened up its offices to coaches again during the past couple of weeks, is operating on that timeline.
In April, the NCAA granted coaches eight hours per week of virtual instruction with their student-athletes through May 31.
During a typical offseason, coaches are allowed to work with their players for two hours a week, with six additional weekly hours available for strength and conditioning.
That puts Iannacchione and the strength and conditioning staff in a more prominent role in the coming weeks. But Miles said he was looking forward to working with all of his new hires along with KU's six returning full-time assistants.

"We're fortunate to have hired some really good, young coaches," he said.
While a more typical summer schedule — again, on a voluntary basis — is now just a couple of weeks away, it's possible that life around the Anderson Family Football Complex will start to look a little more normal next month.
But whether that plan goes off without a hitch or brings a new set of challenges, Miles said his staff would continue to work in whatever manner was required.
"Some of the guys that we've added, they miss the fact that they can't sit right next to the player and they can't walk them through and really practice them," Miles said. "But we're getting it done without those essentials."