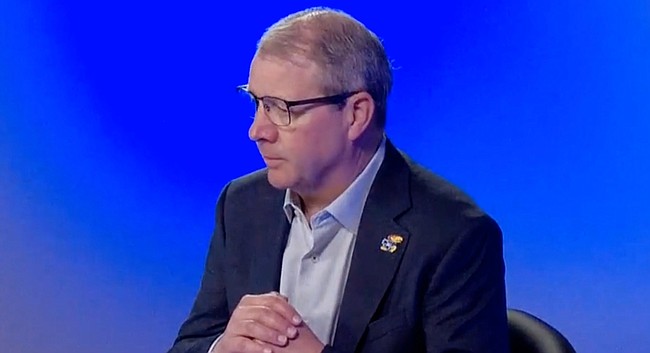 An overarching theme of the COVID-19 crisis, University of Kansas Chancellor Douglas Girod said Tuesday, is that it's been much easier to shut down operations than to open them back up.
Girod, appearing at the KU Health System's daily media briefing, acknowledged that many things would almost certainly look different on the KU campus when the fall semester begins in August.
"It's not going to be our typical opening, for sure," he said. "Certainly, some things just aren't going to happen, because we just aren't ready, and events are a very big one of those."
Those changes are likely to include a staged move-in process for on-campus living and greater control over that environment once students have moved in, Girod said.
He also said that "we have to get to a cultural acceptance" of wearing masks, which will likely be encouraged, if not required, for KU students and faculty members. The worst thing that can happen, Girod said, is to reopen the campus and then have a large COVID-19 outbreak and be forced to again shut down operations midsemester.
"We want to do it right, we want to do it slow, and we want to do it safe," Girod said.
As previous campus messages have communicated, Girod said Tuesday that KU over the summer would be ramping up its capacity to test for COVID-19, conduct contract tracing in university dorm rooms, and setting aside a facility for quarantining.
As for the university's athletic programs, KU Athletic Director Jeff Long also joined Tuesday's briefing and was blunt in saying that officials just don't know at this point how or if fans will be able to attend games in David Booth Kansas Memorial Stadium or Allen Fieldhouse when it comes time for fall sports.
"We are modeling, and we've modeled 15,000 to 16,000 fans in Memorial Stadium," Long said. "We've modeled Allen Fieldhouse, but I can't bring myself to look at it because I know how few people it will be."
"Certainly, a vaccine and preventative things could help us," he said.
Big 12 counterpart Iowa State on Tuesday announced that it was absolutely planning on playing football in the fall but that current guidelines stated it would have to reduce the capacity of it stadium to only 30,000.
Long wasn't as committal Tuesday, but said KU was cautiously planning for its first game to take place as scheduled on Sept. 5, but what level of fan participation there could be may not become clear for several months. Despite everything, KU already has seen a 90% renewal rate for its football season tickets, Long said.
The university's athletics offices reopened to staff and coaches on May 18, with the requirement that everyone wear a protective face mask, Long said.
"We'll do the same with our student athletes when they return," he said. "We've had our partners with Adidas provide us with some 2,000 masks for our student athletes, and we will issue those to our young people when they return to campus."
Last week, the Big 12 Conference announced student athletes could do voluntary workouts on college campuses beginning June 15. One month later is when the KU men's and women's basketball teams can return for workouts, Long said.
As of the most recent data released Monday by the Kansas Department of Health and Environment, the state of Kansas has confirmed over 9,200 cases of COVID-19, which have resulted in 188 deaths since the pandemic began in March.