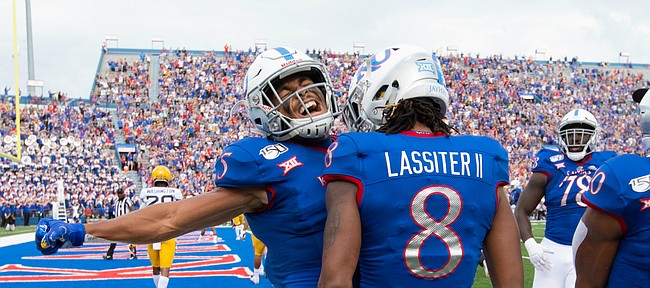 Big 12 Commissioner Bob Bowlsby not only believes college football games will be played this fall, but he also thinks fans will be in attendance.
How many and how it all comes together remains a work in progress. But Bowlsby said Friday morning, during an appearance on SiriusXM Big 12 Radio, that he believes Big 12 football games will include spectators.
"It really depends on how things go between now and then," he said, noting that 80,000-seat stadiums could face the reality of having just 20,000 fans present due to social distancing requirements. "But I think it's fair to ask the question, 'If it's safe for the kids to be on the field in close contact, why wouldn't it be safe for fans to be in the stands at social distance?'"
The whole key, at schools throughout the Big 12 Conference and around the country, is to create an attendance system that is capable of handling spectators.
Bowlsby said making a detailed plan for proper procedures was critical and that such a plan should include everything from standard social distancing measures and how to properly disinfect facilities to what to do if a student-athlete contracts the COVID-19 virus.
"More than anything else, we have to put the procedures in place so we can test with regularity," Bowlsby said. "In the athletics environment, that's probably every couple or three days."
"We are going to have positive tests," he added. "And we need to know exactly how we're going to deal with them."
In addition, Bowlsby said preparations for the college football season — and all fall sports in 2020 — have to include "hospital-quality disinfectant done on a very, very regular basis."
To that end, Bowlsby said the Big 12 has hired an outside consultant to educate its athletic departments on the correct way to disinfect facilities. And West Virginia Athletic Director Shane Lyons is the chair of the Football Oversight Committee that is working closely with NCAA Sport Sciences professionals to create guidelines for college football this fall.
Bowlsby said the safety strategies currently being explored may soon become common in weight rooms, locker rooms, shower rooms and even in the way equipment is designed and maintained.
"It's a very large undertaking," he said.
Beyond the necessary preparations, the first step in the process of having football this fall is determining when it is safe for student-athletes to return to campuses.
The SEC on Friday announced that it would welcome student-athletes back to campus under strict supervision and safety guidelines beginning June 8. Bowlsby said that most Big 12 coaches and officials believed that a little later might be better.
"We have some that would like to go on June 1, we have some that would like to go on July 1," he said. "The majority would like to strike a happy medium."
By Friday evening, the Big 12 had its answer. The conference's board of directors announced June 15 as the date for football players to return to campuses for "voluntary activities related to sport participation."
According to a news release, "football student-athletes will be permitted to access campus athletic facilities and support personnel for voluntary conditioning and training exercises."
The Big 12's volleyball, soccer and cross country athletes are allowed to return July 1. And all other student-athletes, including men's basketball players, are allowed to return to campus for voluntary sport-related activities on July 15.
"We need at least a couple of weeks of re-acclimation and then four weeks of preseason camp," Bowlsby said of the conference's football programs. "That's what it takes to get ready."
Kansas, like eight other Big 12 programs, is scheduled to open the 2020 season on Sept. 5. The Jayhawks will play host to New Hampshire at David Booth Kansas Memorial Stadium in the season opener.
Oklahoma State is the first Big 12 team scheduled to play during the 2020 season. OSU opens on Sept. 3 against Oregon State in Stillwater, Okla.
"We all want to get back to something that looks like normal," Bowlsby said. "And I think we have to accept that there are going to be disruptions and that this is probably going to be a new normal, not the normal we've known before."