The COVID-19 crisis pushed pause on Aaron Miles' first full season on the Golden State Warriors' coaching staff, but the former Kansas point guard is still doing some coaching — and anyone who wants to can watch his lessons online.
Miles' four sons — Aaron Jr., Adonis, Asaiah and Avion — have been sharpening their basketball skills with their dad while normal life has been put on hold. And the family has been putting videos from the lessons up on YouTube on a channel called "Miles Mondays."
"The biggest thing for me is I'm getting quality father-son time with my boys," Miles told the Journal-World in a phone interview Tuesday. "It just so happens that my greatest passions are family/fatherhood and basketball, so those videos have been a fun way for us to combine the two."
Mixing entertainment with basketball instruction, the "Miles Mondays" shows have become a welcome part of the family's pandemic operation, between other quarantine-related responsibilities like home schooling (Miles said that "since it all went down, my wife and I have turned into elementary school teachers"). Miles does the basketball instruction, and his wife, Mikki, does the filming.
"Obviously I love what I do, coaching and being around the game," Miles said on a KUsports.com podcast. "But (the pandemic) gave me the opportunity to spend a whole lot of time at home with the family."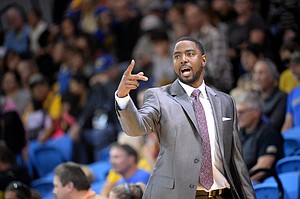 While the videos incorporate plenty of skill work and basketball development drills, they also include nods to Miles' current team — including a guest appearance from a superstar.
During the most recent episode, which emphasized giving up the ball and relocating to another spot on the floor to get it back for a shot, Warriors star Steph Curry dropped in for a virtual demonstration.
The two-time NBA MVP and three-time world champion jumped into the fun via video from his home to demonstrate a move that's known as "The Curry Sauce." Unlike the Miles family, Curry had no one to help him with his drills, so he made it work by strategically placing basketballs at different spots on the court.
The Miles boys then tried it out on their own, with their dad playing defense.
Miles' oldest son, Aaron Jr., showed off some sauce of his own by slipping past his dad's defense on the high side and putting the ball between Miles' legs before zipping a behind-the-back pass to one of his brothers and then burying a jumper from the corner.
"That's what separates (Curry) from everybody else," Miles said. "His ability to move after the penetration-and-kick. That's the secret sauce."
So far, the family has done seven episodes and nearly all of them have featured some kind of connection to the Golden State franchise.
The first episode showcased the UTEP Two-Step, which was former Warrior Tim Hardaway's famous crossover dribble. The Miles boys also have learned skills made famous by Chris Mullin, Baron Davis, Shaun Livingston and Nate Thurmond.
Miles said all four of his sons have to be reined in from time to time because their imaginations can get the best of them.
"They all think they've got some Steph in them," he joked. "Or Klay (Thompson)."
Miles' third son, Asaiah, wears No. 11 on his youth teams, and he isn't afraid to tell people why.
"So I'm proud to see that, and somebody asked him, 'Hey, yo, I see you're wearing No. 11 like your daddy,'" Miles recalled. "And he was just like, 'Daddy? I'm Klay Thompson.'"
The only break from the Warriors theme came the day after Mother's Day, when Mikki jumped into the mix for a little family scrimmage.
The sense of family in a basketball setting is something Miles said has followed him throughout his career, including at Kansas when he spent a year on Bill Self's staff.
"Coach Self used to allow me to bring my kids to the games and up to the offices as well as coach (Joe) Dooley at Florida Gulf Coast," Miles said. "And that's something that's here. (Golden State) Coach (Steve) Kerr allows me to bring the boys up to practices and they get the chance to rebound for the different players. It's been really cool for those guys to be able to build relationships with the NBA guys."