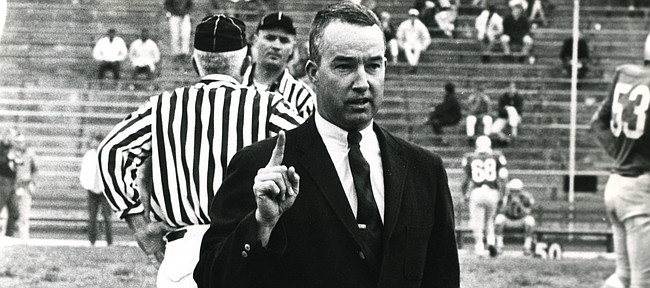 Former Kansas football coach Pepper Rodgers, who led the Jayhawks to the 1969 Orange Bowl, died Thursday at age 88, according to a report from the Los Angeles Times.
Born Franklin Cullen Rodgers on Oct. 8, 1931 in Atlanta, the former KU coach died after being taken off life support following a fall in his home last weekend that led to a stroke and heart attack, Ben Bolch of the Los Angeles Times reported.
Rodgers, who coached at Kansas from 1967-70, led the 1968 Jayhawks to a 9-2 record and an appearance in the Orange Bowl.
Kansas lost that game, 15-14 to Penn State, when the Nittany Lions were given a second chance at a 2-point conversion in the final minute after the KU defense was flagged for having 12 men on the field while stuffing Penn State's first attempt at the game-winning score.
The Orange Bowl was KU's first bowl appearance since 1961 and marked the program's first trip to the Orange Bowl since 1948. KU returned to the Orange Bowl in 2008, when the Jayhawks knocked off Virginia Tech to finish the 2007 season with a 12-1 record.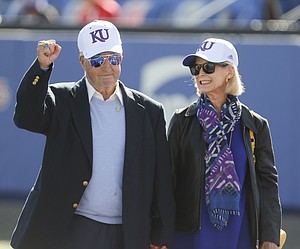 Rodgers, who coached KU greats Bobby Douglass, John Riggins and Larry Brown, to name a few, led Kansas to a 20-22 overall record during his four seasons in Lawrence.
He recently returned to Lawrence, in 2016, for a KU football reunion that coincided with his 85th birthday.
After leaving KU, Rodgers coached UCLA for three seasons from 1971-73 and Georgia Tech for six more before coaching the Memphis Showboats, of the USFL, for two seasons and the Memphis Mad Dogs, who competed in the Canadian Football League, before retiring from coaching.
Rodgers, who played quarterback at Georgia Tech from 1951-53, led the Yellow Jackets to back-to-back Sugar Bowls and a share of the national championship after a 12-0 season in 1952. He later coached at his alma mater for six seasons (1974-79) before moving on to the professional ranks.
"I am devastated to learn of the passing of Pepper Rodgers," Georgia Tech athletic director Todd Stansbury told The Associated Press. "He was a Georgia Tech legend."
During his career, Rodgers coach Heisman Trophy winners Steve Spurrier (Florida) and Gary Beban (UCLA) and also coached a pair of Pro Football Hall of Famers in Riggins and Reggie White, when White played for the Showboats.
He earned Big Eight coach of the year honors twice while at Kansas and also was named Pac-8 coach of the year two times while at UCLA.
After compiling an all-time record of 73-65-3 as a college coach, Rodgers worked in the Washington Redskins front office from 2001-04, serving as the franchise's vice president of football operations.
"I was terribly saddened to hear the news about the passing of Pepper Rodgers," Redskins owner Dan Snyder said in a statement. "Anyone who knew Pepper knew what a genuinely good person he was. He was a kind and gentle man ... He had an incredible knowledge of the game and was beloved by everyone in the organization."
More like this story on KUsports.com