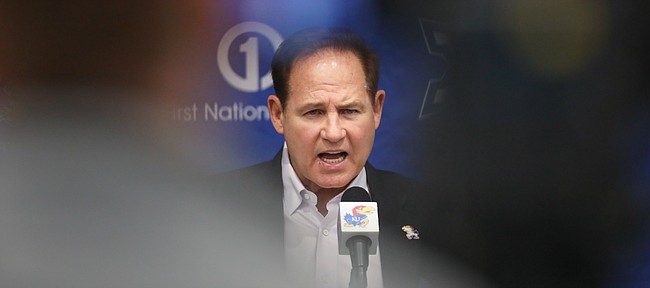 Although he has gotten used to it by now, Kansas football coach Les Miles' first attempt to coach his team in a virtual setting this spring proved to be a challenge.
"It was the dangedest thing," Miles said during a recent phone interview with the Journal-World. "The first time I'm watching this (video chat), I want to go grab a guy and talk to him. And I get up and I go, 'I'm not going to grab that guy. That guy's back home in his hometown.'"
In this strange new spring football world, Zoom calls took the place of team meetings in the Anderson Family Football Complex. Practice reps were nonexistent.
And even though Miles was calling the shots from his couch, it wasn't comfortable at first.
"(It's) a difficult way of communicating," Miles said. "It just is. But it's what's available to us, so we're certainly making use of it. And I think we're doing it as well as it can be done."
Fortunately, Miles said KU video director Alex Knisely was "well ahead" on the technology side, and she quickly trained the coaches on the technology and got the electronic connections between the players and the coaches up and running. Part of the electronic coaching setup — a complicated array of wiring in Miles' basement.
"I've got wires running from a computer to a TV," he said. "I've got a mess. But I'm going to enjoy it, and it's going to be something that we make work for us in the short term."
The interpersonal connections have posed more challenges than the electronic ones, though.
Miles can still speak to the whole team, of course. Offensive coordinator Brent Dearmon and defensive coordinator D.J. Eliot can hold conferences with their players, and assistants can hold even smaller meetings with just their position groups.
But even if coaches can talk to the players, it's sometimes hard to ensure that the message sinks in. For example, Miles said he could tell a player to focus on finishing strong in academics. But he couldn't look the player in the eyes, in person — something he said was "an easier, more effective way to communicate."
"The difference is, when you're in your facility, that guy's not going to practice if he hasn't seen me," Miles said. "And if that guy's at practice and he hasn't taken care of something, when he walks off the field, he's taking care of it."
Miles is doing his best to adjust to this unusual vibe, and he said not everything is difficult to do online. Last Friday, Miles said he and a few of his staff members "sat down on the couch together" to watch film on several recruiting prospects and discuss whether to pursue them harder or back off.
None of the assistants actually came to Miles' home and sat down with him amid the tangle of wires and electronic equipment, of course. But he said their engagement and willingness to make virtual coaching work made it feel like they were sitting right there.
"I think our coaches are very diligent in terms of wanting to be with (the players)," he said. "And some of the classroom presentations have been spectacular and really entertaining and good to be around."