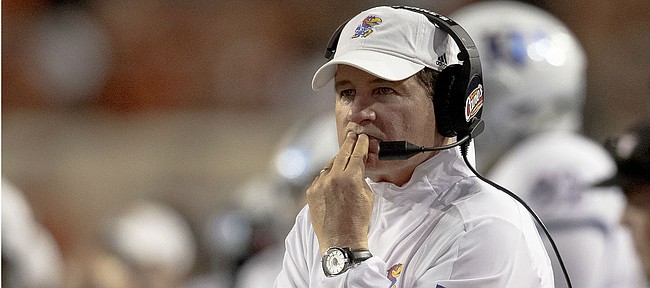 Kansas football coach Les Miles is confident there will be college football this fall — but he said he's not so sure what it will look like or when exactly it will start.
"We're going to play college football in the fall," Miles said during a 12-minute spot on 610 Sports Radio Thursday morning. "That's what's been said, OK. That's the key piece. Now we've got to make sure we're safe for our kids."
Miles has had limited interaction with his players, who missed spring practice and have been spread out across the country during the pandemic.
He said he was excited to see them again and eager to get his second year underway.
"I think there's some indecision as to which date they're going to say OK, whatever it will be — May 31, June 15, June 1, Aug. 15 — whatever they would say," Miles said. "And it could be later. But there's a bunch of guys that can't wait to play."
Whenever the Jayhawks get back to business, Miles emphasized that "the ultimate piece" would be player safety.
"When they take the field, it's got to be done with the idea that we're doing it with them in mind," he said.
Miles was on the show on Thursday for COVID-19-related business — a radiothon for area coronavirus relief efforts.
The radio station put on the event in partnership with Kansas City Chiefs defensive back Tyrann Mathieu, who played for Miles at LSU.
The two have remained close throughout Mathieu's professional career, bantering on Twitter from time to time and connecting in person when their schedules have allowed.
Mathieu even recently participated in KU's "virtual spring game," taking on his former coach in the championship round of the Twitter-based contest.
Miles had plenty of praise for Mathieu's charitable event, which features an online auction and an opportunity to donate money to families in and around Kansas City who are struggling during the COVID-19 health crisis.
"This is a 100-year storm," Miles said of the pandemic. "This is miserable. And what has to happen is guys like Ty stand forward, and a lot of other people, in feeding and clothing and masking and all of the things that he's providing. I'm thrilled that he's doing it."
As for how the Miles family is making it through the pandemic, the second-year KU coach said he had "mixed reviews" about the entire situation.
"It's very difficult to look at the disadvantaged people having a tough time with this and then, in turn, you're having some time at home with your family that you never get," he said. "I like being with my family. It's a blast. But I get itchy to go to work."
Anyone interested in checking out more from Thursday's Radio-Thon, which started at 6 a.m. and runs through 6:30 p.m., can visit 610sports.radio.com or visit tyrannmathieu.org.
"You could always count on Ty to give it his all," Miles said. "You could always count on him to love his teammates and want to play for them. He's special, man. I don't know that I'll come by him again."