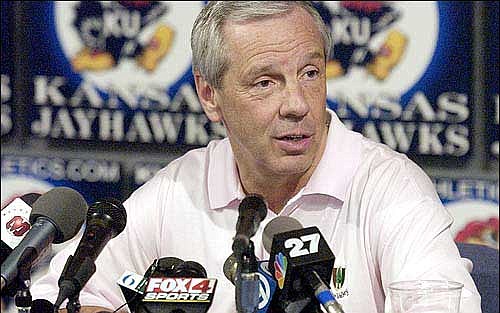 The Kansas men's basketball program officially hired Roy Williams to replace Larry Brown as head coach on July 8, 1988, and less than two months later Williams was sending staff members to Michael Jordan's house in Chicago.
A move like that might seem like a bit of flex. After all, the relatively unknown Williams helped recruit and coach Jordan at North Carolina before taking the job at Kansas, and the two remain close to this day.
But in reality it was more of a survival method than anything else.
Williams was hired at Kansas knowing that NCAA sanctions could be coming from Brown's time leading the program. And he was on the job less than four months before KU was hit with three years of probation, a one-year postseason ban, and, the key part for this story, no official, on-campus recruiting visits for all of 1989.
"That was very difficult, to say the least," recalled Williams during a Monday evening phone interview with the Journal-World from his home in Chapel Hill, N.C. "So we were just trying to figure out what we could do to salvage something recruiting-wise. And somebody came up with the idea of making a video."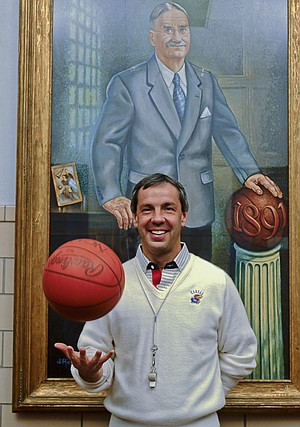 Long before Hudl, YouTube and Instagram took over the recruiting scene, former KU assistant sports information director Jeff Bollig was in Jordan's house outside of Chicago with a video camera as big as a toaster oven and a directive from Williams — get him to help us sell Kansas.
There was, however, one small problem.
"He had never been to Kansas, so he couldn't say much about the place," Williams said of Jordan. "All he could talk about was me. The thing I remember was he said, 'Coach, if you're ready to coach in the NBA, come on. I'm ready to play for you again.'"
According to Williams, the idea of getting Jordan involved came from assistant coach Jerry Green, who asked Williams if he thought Jordan would say something about him for the video.
"Roy hopped into action real quick and we got Michael to help with the video," Bollig said. "At that time, people really weren't doing that kind of thing."
Well on his way to becoming the most recognizable athlete on the planet at that point, Jordan's time was in serious demand.
So Williams set up every detail of Bollig's trip the way he put together his down-to-the-minute practice schedules.
"I'll never forget it," said Bollig, who went with two other video production people. "On a 3-by-5 note card, he wrote down Jordan's address and phone number and drew a map from the airport to his house."
Such information might have brought in a small fortune back in those days, but Bollig said there were specific instructions for the card, as well.
"He told me, 'When you're done with this, tear it up,'" Bollig said. "I ended up keeping it, but I don't know where it's at today. And, obviously, Jordan does not live there any more."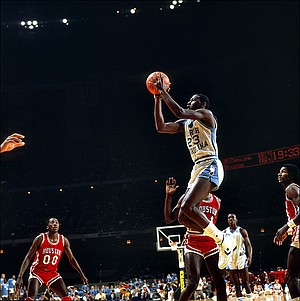 The trip took place over Labor Day weekend and, as Bollig recalled, Jordan was filming a television commercial the morning of the meeting, which took place on Sunday afternoon.
The instructions were for Bollig to call Jordan sometime around noon to make sure everything was still on for the video shoot.
"When you call up Michael Jordan, what do you call him," Bollig said. "Mike? Michael? His Airness? I called him Michael, I think."
The call was productive, the session was still on and Bollig and his crew made their way over to Jordan's house. It was immaculate.
"He loved swans and he had glass swans and crystal swans and marble swans all over the house," Bollig remembered. "And he had a great media room. He could control everything with a remote. Back in '88 that was pretty impressive."
Bollig wound up staying at Jordan's for 3-4 hours. But not all of that time was spent filming and talking about Williams.
"He gave us a tour of his house," Bollig said. "He had pizza there for us. He told us a few Roy and Dean (Smith) stories. We finished up and we got out of there. No iPhone to take a selfie. No autographs. He was just really cool and very cordial."
Former KU sports information director Doug Vance and Williams both recalled KU paying a steep price to make sure the video was of the highest quality.
"It was going to be very important for recruiting," Vance said. "Coach Williams couldn't get people on campus, so the video was how he introduced himself and his staff to recruits. And it was dynamite. I think it definitely opened some doors for Coach."
The video itself was only used for a short time. Williams said the production company that was hired to make it spent his entire first season (1988-89) recording footage to include in the video.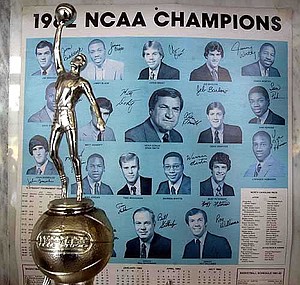 Crowd shots at Allen Fieldhouse, scenes from KU's campus, testimonials from former players and even moments inside the Kansas locker room were all in it.
"I never thought at that time in my career — and I'm still not in favor of it too much today — that I would ever let people bring cameras in the locker room," Williams said Monday night. "But we did that year."
During one particular game, on Jan. 7 vs. Iowa State, the cameras were even allowed in at halftime.
"We were up 9 and we wound up winning by 45," Williams correctly recalled. "I told Jerry after the game, 'Maybe we should bring the cameras in there all the time.'"
Some of the footage shot that night made it into the video, but Bollig said even he only saw the thing once.
Williams believed it was KU's freshman class of Steve Woodberry, Richard Scott and Patrick Richey that saw the video. And, of course, there likely were a few other prospects who wound up not picking Kansas who saw it, as well.
Richey, who came to Kansas from nearby Lee's Summit, Mo., did not recall seeing the video. But he did remember meeting Jordan at a KU camp one time and then receiving a handwritten letter from Williams that mentioned Jordan wanting to give "the two big kids" some photos from the event.

"I think Coach tried to utilize his relationship with Michael Jordan any time he could," Richey said. "And who could blame him?"
With the video, the process was simple. During the in-home visit with a recruit and his family, Williams would pull out the VHS tape and carve out some time during the visit where the VCR and television took center stage.
"The purpose was to show them the campus and to show them the enthusiasm in Allen Fieldhouse and the history of Kansas basketball," Williams said.
From the perspective of KU's athletic department, Vance said the purpose was slightly different. And even though Jordan's time on the screen during the 20-minute video was limited to about 60 seconds, his words and presence packed quite a punch.

"We were trying to sell coach Williams," Vance remembered. "And you couldn't ask for a more impressive person to introduce Coach to prospective players than Michael Jordan."
More like this story on KUsports.com