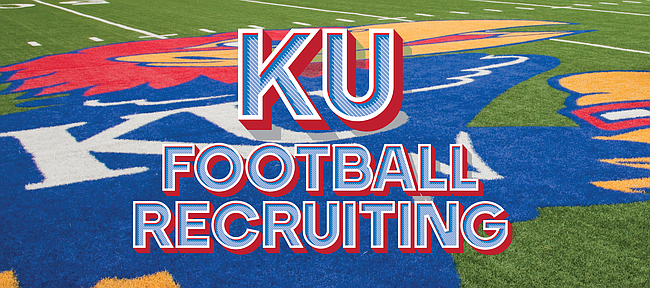 Three-star Alabama offensive lineman Edgar Amaya found a way to make Friday a special day for the Kansas football coaches.
And he brought as many of them together as possible to do it.
Talking to the entire Kansas offensive coaching staff on a FaceTime call, Amaya orally committed to join the Jayhawks on Friday.
Offensive coordinator Brent Dearmon set up the call and the others joined in on the celebration that followed.
"Everybody was excited," Amaya told Kirby shortly after announcing his commitment on Twitter. "Coach (Les) Miles was yelling. Coach (Luke) Meadows put on a wig. It was a great time."
Amaya's commitment is the latest example of a group effort paying off in recruiting for the Kansas football program.
Despite not having visited KU yet, Amaya told Kirby that his interactions with the handful of KU coaches who recruited him inspired him to pick Kansas.
"It felt like being at home just talking to them," he told Kirby. "They always reassured me that they'd be my family and every step of the way they were there for me."
The versatile lineman from Russellville (Ala.) High has experience at nearly every position on the O-Line, but he projects as a center at the college level.

Amaya picked Kansas over offers from Illinois, Tulane, Navy, and others. Now that his recruitment is wrapped up, the 6-foot-3, 300-pound lineman is excited about his senior season and preparing for
"The work is just starting for me as a Jayhawk," he told Kirby. "All that's really going through my head is I need to up the level of work I've been doing. My mindset is, 'We can celebrate for a second, but I need to get right back to work.'"
Amaya becomes the second offensive lineman in KU's 2021 recruiting class, joining De'Kedrick Sterns, who committed late last month. The rest of KU's class includes Lawrence High running back Devin Neal; Brownsburg (Ind.) High quarterback Ben Easters; Little Rock, Ark., defensive end Deldrick Withers; Mena, Ark., tight end Mason Brotherton and Jaddai Henry, Majik Rector and Kelan Robinson, who are all wide receivers from Texas.