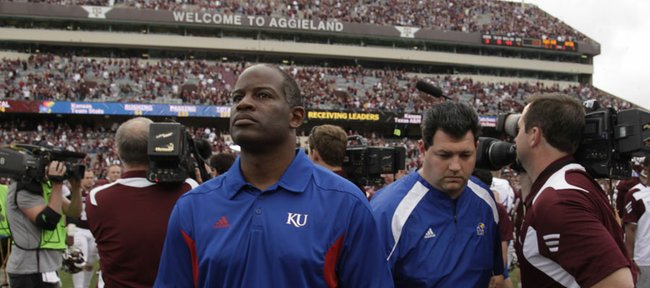 It came as no big surprise when a new study on spending in high-profile college athletics found that the University of Kansas has paid more than most to get rid of football coaches.
An analysis of coaching buyouts over the past 15 years published by AthleticDirectorU.com revealed that, among public universities, KU ranks third in football severance spending in that span, having paid $23,731,412 to its former head coaches and assistants, a result of the unsteady program's high turnover in the past decade-plus.
Les Miles became KU's fifth head coach in 11 seasons when he took over the program before the 2019 campaign, and in the years prior the athletic department parted ways with Mark Mangino, Turner Gill, Charlie Weis and David Beaty, leading to significant goodbye bills.
None of KU's fired coaches following Mangino experienced on-field success. Gill went 5-19 in two seasons, Weis was 6-22 in two-plus years and Beaty went 6-42 in four seasons.
The study showed that Florida was the No. 1 spender on football buyouts — the list didn't include private institutions — with $24.8 million spent on its former coaches, and Nebraska spent the second most, at $24.3 million.
Per the study, KU's buyout spending kicked off in 2010, the year after Mangino and KU reached an agreement on his departure, with $3,648,300.
The next big costs came in 2012 following Gill's firing, leading to $8,325,063 in payments.
KU spent $413,937 in 2014, but took another large hit in 2015 after firing Weis, paying $6,629,760 in severances.
In 2018, KU spent another $254,313 on buyouts. Then came a $4,460,039 price tag in 2019, after Beaty was fired. KU remains in a court battle over paying Beaty, and put the $3,000,000 for his buyout in escrow in the meantime.
The data, compiled for ADU from NCAA financial reports for the 52 public Power Five universities, found that athletic departments spent a combined $491,770,668 in football and men's basketball severance payments over the past 15 years — though some institutions did not have data available for the entire 15 years.
The study, authored by Andy Wittry, noted Power Five schools' spending increased significantly in the last two years.
During the period covered in the study, KU's basketball program spent $90,000 in buyouts. All of that money was spent in 2009.