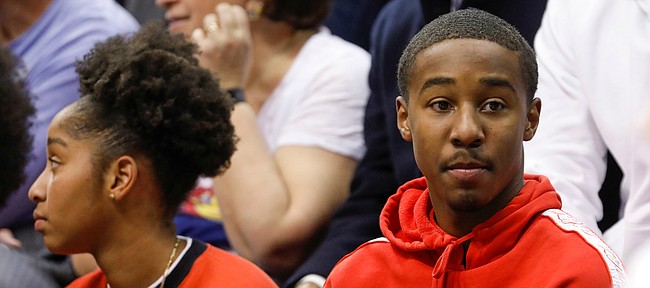 Future Jayhawk Bryce Thompson will go down in the KU record books and media guides as a McDonald's All American — but unlike All-Americans in years past, he won't get the chance to play in the annual high school showcase game.

The McDonald's All American game, which was originally slated for Wednesday night in Houston, was canceled because of the COVID-19 pandemic.
"I kind of expected it because every other thing was being canceled," Thompson, a 6-foot-5 combo guard out of Booker T. Washington High in Tulsa, Okla., recently told the Tulsa World.
In a statement released shortly after the decision to cancel this year's boys and girls games, the McDonald's crew said that "canceling the games does not diminish the contributions (the 48 McDonald's All Americans) have already made to the sport and their communities. Nothing can take away the fact that each of them will forever be a McDonald's All American."
Thompson was treated to a fair amount of buzz in February when he was named an All American — the 10th one from the state of Oklahoma, the third from his high school and the 49th such player to join the Jayhawks since 1977. And KU coach Bill Self said Thompson belongs on that list.
"He deserves to be in the game," Self said this season shortly after Thompson was named to the 2020 team. "Certainly that's a goal of everybody that plays high school, basically, and the families of those that play high school. At that point in time in their career, it's as high an honor as you could possibly attain. So we're happy. We'd be just as happy getting him if he didn't (earn the honor), but certainly we're happy for all the accolades that any of our guys receive."
In February, Thompson said it "took a lot of hard work, a lot of dedication and a lot of stuff to go right for me" in order for him to earn the honor.
"I've been fortunate to be healthy and then God just blessing me with the gifts and talents that I have," he said in a news conference after receiving the honor.
Thompson, a five-star guard who is ranked No. 19 overall in the 2020 class by Rivals.com, signed with the Jayhawks in November.
He is the headliner of a KU recruiting class that includes junior college transfer Tyon Grant-Foster, a wing originally from Kansas City, Kan., who is ranked as the No. 1 juco player in the country; four-star center Gethro Muscadin, who projects as an athletic 4 or 5 in college, and three-star guard Latrell Jossell, who is known as a lights-out shooter and was an AAU teammate of Muscadin's.