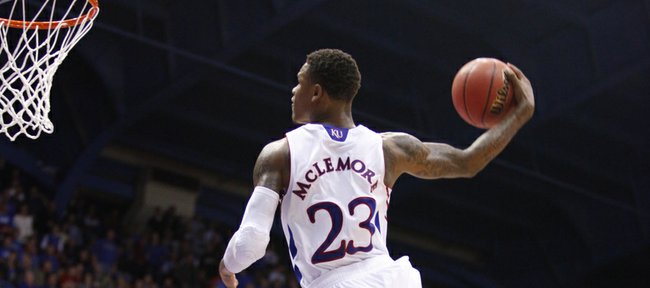 Former Kansas All-American Ben McLemore is putting his heart and free time toward providing N95 respirator masks for doctors and nurses who need them.
Working on behalf of the Kevin McLemore Foundation, named after his late brother, McLemore and his manager, Hazem Al-Gibaly, have reached out to manufacturers worldwide to help fund the production of new masks that will aid in the fight against the coronavirus.
Now with the Houston Rockets in his seventh NBA season, McLemore wasted no time in jumping in to help as soon as the NBA season was put on hold a couple of weeks ago.
"I'm used to Ben calling me and asking me how he can get involved in a particular relief effort," Al-Gibaly told the Journal-World by telephone on Thursday night. "Obviously we've never seen anything quite like this, but I know Ben's heart for wanting to get involved and I knew that call was coming."
It did, bright and early one recent morning, after McLemore woke up with a plan.
"I called Haz and told him what had been on my mind and the vision I had to find ways to help these different hospitals, nurses and doctors who are fighting this pandemic," McLemore told the Journal-World on Thursday. "My vision was global, obviously, just because of seeing what happened out there in Italy and how that impacted me."
Through a connection at an international company that manufactures toys for Happy Meals, McLemore and his team immediately got the ball rolling on production of the masks.
Al-Gibaly said he was optimistic that the first shipment would arrive early next week. He also said the scope of the project had grown tremendously since McLemore came up with the initial idea.
"We've had people from all over reach out about joining us," Al-Gibaly said. "Right now, we're helping as many as we can. We had a more modest goal in the beginning, but now we'll likely be doubling or tripling our efforts."
That, Al-Gibaly said, could result in mask production into the six-figure range if things go smoothly.
"We want to start in Houston and then branch out to St. Louis and Kansas and California," said McLemore, who grew up in St. Louis and began his NBA career in Sacramento with the Kings.
Said Al-Gibaly: "If anyone needs any masks, they can reach out to me, and Ben and I will do what we can to try to take care of them."
Al-Gibaly can be reached via email at: HA@SultanGroup.tv.
Through 63 games with the small-ball Rockets during his first season in Houston, McLemore is averaging 9.8 points in 22.8 minutes per game while shooting 39.5% from 3-point range.
The former No. 7 overall pick in the 2013 NBA Draft said watching the league shut down after Utah Jazz star Rudy Gobert tested positive for the coronavirus was "a wake-up call to take everything serious that the government and league is saying to do."
Although pressing pause in the middle of the busy NBA grind has been strange, McLemore and Al-Gibaly said the 6-foot-3 guard has tried to take advantage of the downtime in every way possible.
"The first week was tough," McLemore said. "But basketball will never really go away for me. I've just been proactive and treating this as another opportunity, like summertime, to get better and improve on certain things."

Added Al-Gibaly: "Ben is a self-starter, and he kind of has a little plan in place."
That plan includes staying in tip-top shape, shooting when he can and watching extra film of his own game to identify areas he can improve or skills he can add to make himself an even more productive player when the season resumes.
As for how he had enjoyed the Rockets' experiment of playing without a true big man and trying to create matchup problems for opponents with quickness and the ability to stretch the floor, McLemore said he loved it.
"No complaints over here," he said. "Obviously my role stayed the same and they made a change that's going to help us and benefit us and get us a step closer to attaining our goal of winning a championship."
McLemore, who said he stays in regular contact with KU coach Bill Self and Kansas assistant Kurtis Townsend, had planned to check in with the Jayhawks during the postseason.
"I heard they were coming to Houston (for the NCAA Tournament), and I was going to try to make the Big 12 Tournament as well," he said. "But things happened. I would definitely say, though, that we finished off on top, just like how we wanted. It wasn't quite the way we wanted, but we'll take it. Coach Self and the other coaches did a great job with those guys, and those guys did a great job going out there and competing every day to be in the position they were in."
More like this story on KUsports.com