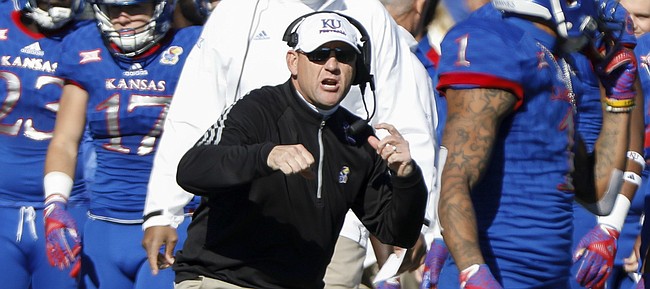 Kansas Athletics Inc. says it has evidence that former football coach David Beaty broke NCAA rules while at KU, and that it has spent "several hundred thousand" dollars in the court battles tied to Beaty's lawsuit against the university, according to recently released court documents.
In a 66-page memo, which was filed by KU's lawyers on Jan. 31 but was only unsealed by a judge this past week, KU argues that Beaty "allowed and encouraged NCAA violations" and that those alleged violations "resulted in several hundred thousand in legal fees for Kansas Athletics." The memo includes transcripts of interviews with players and members of the KU football staff — interviews that KU says suggest that NCAA rule violations occurred under Beaty.
Beaty was fired in November 2018. In March 2019, he filed the lawsuit against KU, alleging he was still owed a $3 million buyout because he was terminated without cause. The university maintains that it doesn't have to pay the buyout because the alleged NCAA rule violations would mean that it had cause to fire Beaty.
"Beaty should not be rewarded," the memo from KU argued, "for managing to avoid getting caught until after Kansas Athletics terminated him without cause."
In the Notice of Allegations that KU received from the NCAA in September 2019, it is alleged that the football program used a noncoaching staff member in a coaching role from December 2017 through October 2018. Jeff Love, the team's video coordinator, allegedly met with and instructed quarterbacks.
Beaty's lawyers denied that he participated in or had "direct knowledge" of the alleged violations, but KU's law team said in the memo that "substantial and credible evidence" exists that suggests otherwise.
The memo includes transcripts of interviews KU conducted with not only a former assistant video coordinator who worked under Love, but also four of the program's quarterbacks from that period of time — Carter Stanley, Peyton Bender, Miles Kendrick and Miles Fallin.
Each of the QBs attested to meeting with Love and learning about how to study opposing teams' defenses. Fallin, Kendrick and Bender told KU that Beaty had some sort of participation during those sessions with Love.
Additionally, a transcript of an interview conducted with former KU offensive coordinator Doug Meacham, the one-time Beaty assistant, describes a falling out with Beaty that led to KU's head coach instructing Love to attend Meacham's meetings with quarterbacks.
Meacham said none of the QBs informed him of meeting with Love.
KU claims in the memo that it has the legal right to determine after the fact that Beaty should have been terminated "for cause" and that the alleged NCAA violations that transpired under his watch provide KU with the grounds to not pay his buyout.
Additionally, the memo says that KU Athletics Director Jeff Long sent a letter to Beaty dated Nov. 21, 2019 — a year after Long fired Beaty — informing him that KU had determined he had been terminated "with cause." The memo says that the letter informed Beaty of his right to appeal that within five days, and "Beaty chose not to take advantage of that right."
KU self-reported its alleged football violations from the Beaty era, as well as a similar one that occurred under his replacement, Les Miles, that was added to an amended version of the NOA.