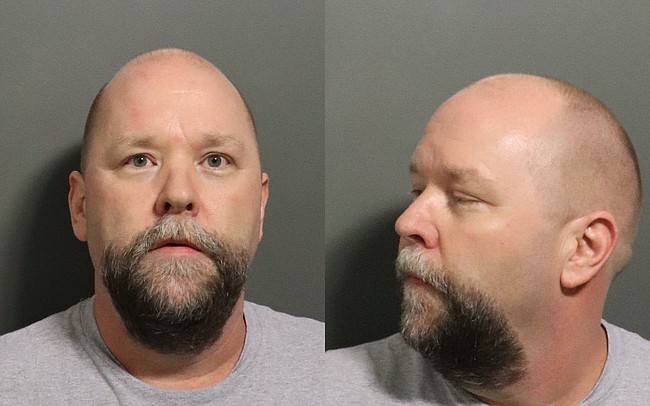 An athletic trainer at the University of Kansas was aware of "at least some reports of unwarranted and unwanted touching" by a massage therapist who worked with female student athletes, university leaders said Tuesday.
Shawn P. O'Brien, who has been charged with aggravated indecent liberties with a child in an unrelated court case, allegedly conducted himself inappropriately with "at least six female student-athletes," according to a statement from Chancellor Douglas Girod and Athletic Director Jeff Long.
O'Brien, 48, of Lawrence, is the former owner of Medissage - Kamehameha Massage LLC. The Journal-World, through an open records request, obtained contracts indicating that O'Brien had worked with athletes of the women's basketball and tennis teams as well as the softball and soccer teams at various times, beginning in 2015.
The university launched its investigation in early March after learning of O'Brien's charges following a Journal-World article about the case. Girod and Long said in Tuesday's statement that investigators have interviewed "nearly 40" student athletes and seven staff members.
"In addition, investigators have determined an athletic trainer was aware of at least some reports of unwarranted and unwanted touching by the therapist but failed to appropriately report the conduct, as is required by the university," the statement said. "We will continue our investigation into the conduct of the therapist and determine who, if anyone else, knew of inappropriate behavior that may have occurred."
The investigation also found that O'Brien provided free massages on campus to the general student population through the KU Alumni Association's Finals Dinner, beginning in 2011 and as recently as fall 2019, according to the statement. He also reportedly distributed gift cards for his business.
"Local law enforcement is working to determine whether inappropriate conduct took place," according to the statement.
In follow-up open record requests, the Journal-World requested any written notification of termination of contracts with O'Brien. Such two-week notices were part of his contracts with the teams. In response, university staff said it possessed no such records, and "in 2019 Kansas Athletics sports medicine staff were transitioned from Kansas Athletics to The University of Kansas Health System."
The KU Health System is not a state entity and therefore not subject to open records laws, spokesman Bob Hallinan told the Journal-World last week.
As the Journal-World reported on March 1, O'Brien's charges stem from a girl's accusation that on multiple occasions, he touched her sexually under the guise of a "massage." She shouldn't tell anyone what happened because massages were "really expensive" and she was "lucky" to get one for free, O'Brien allegedly told her.
O'Brien recently had his license to practice bodywork suspended by the city of Lawrence pending the outcome of his criminal case.
At the city's Bodywork Advisory Board meeting on Wednesday, O'Brien's attorney, Philip Sedgwick, spoke briefly with the Journal-World.
"I'll just say I think it's sad that we don't presume innocence," Sedgwick said. "Somebody says something, and that's enough for everybody to make up their minds."
He declined to comment further.
KU officials said in the statement that the investigation found that the university's "numerous protocols and required training focused on students' well-being and the necessity of reporting inappropriate behavior" were not followed.
"We will continue to share information as appropriate and will do everything possible to ensure the health, safety and well-being of our students and staff," the statement said.
The Journal-World has asked university spokespeople about the status of the trainer who knew about O'Brien's alleged misconduct.
---
This story will be updated as more information becomes available.
---
Related coverage
• March 18, 2020: Board upholds license suspension of Lawrence masseur charged with child sex crime
• March 16, 2020: City suspends license of Lawrence masseur charged with child sex crime; hearing set for this week
• March 5, 2020: Lawrence masseur accused of child sex crime had contract with KU women's teams, university leaders say
• March 1, 2020: Lawrence masseur masked molestation as massage, told girl she was 'lucky' to get one free, affidavit alleges
• Feb. 7, 2020: Lawrence man arrested on suspicion of aggravated indecent liberties with a child