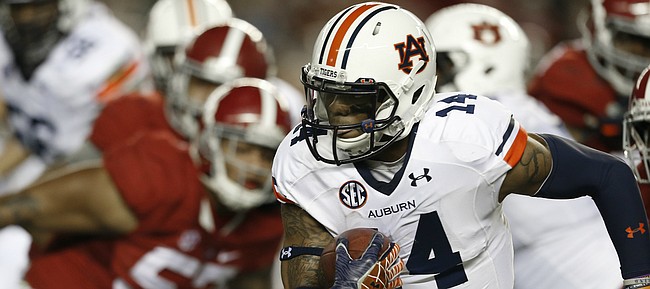 Years before he joined the Kansas football staff, Brent Dearmon worked behind the scenes at Auburn as an analyst. Those two seasons are a span Dearmon remembers fondly, and it's not just because that job helped catapult his coaching career.
"I was around a guy named Nick Marshall for two years and those are two fun years for me," Dearmon, now KU's offensive coordinator and quarterbacks coach, said of the Tigers' QB at the time.
Dearmon brought up Marshall's name during an interview with reporters a few months back, when the topic of conversation turned to his interest in finding a QB who can not only affect the outcome of a game with his passing, but also his rushing ability.
And Dearmon shared his appreciation for Marshall's game when asked about the rushing ability of class of 2020 KU signee Jalon Daniels.
Dearmon envisions the incoming freshman becoming a true dual-threat QB. According to KU's OC, Daniels is well equipped to get the ball out of his hands quickly on passing plays, but can also create and improvise in the pocket when necessary.
When Dearmon worked as an analyst for head coach Gus Malzahn at Auburn from 2013-14, he witnessed Marshall's junior and senior seasons. During the course of those 26 games, Marshall passed for 4,508 yards and 34 touchdowns and rushed for 1,866 yards and 23 TDs. The Tigers went 12-2 in 2013 and 8-5 in 2014
"That guy just made it right all the time," Dearmon said of Auburn's QB.
He wasn't necessarily looking for a running QB when Dearmon discovered Daniels' game footage, but he saw potential for the 6-foot, 200-pound prospect as both a thrower and rusher. And that was before Daniels played his senior season at Lawndale High, in California.
In 2019, Daniels threw for 1,910 yards, going 114-for-186 (61.3%) through the air, while passing for 18 touchdowns, with seven interceptions. As a rusher, he put up 1,108 more yards of offense, picking up 9.8 yards per carry and running for 14 TDS.
Dearmon sees Daniels as a QB who can move in the backfield and/or take off for a long run.
"And he's got a little thickness to him as well, that he's not a frail kid," Dearmon added, "so if he needs to put his shoulder down he does a good job running the football, so that was something that stood out for us."
Daniels ended up being the only QB in KU's 2020 recruiting class, and the first QB Dearmon got a chance to recruit and land after head coach Les Miles promoted him to offensive coordinator and quarterbacks coach in the middle of the 2019 season.
Previously committed to Middle Tennessee State, Daniels flipped to KU, and Dearmon thought "the enamor" of playing Big 12 football had something to do with that. But the offense Dearmon wants to run also was a selling point.
"I think he loved the RPO system," Dearmon said. "I think he loved the style of play. The fact that in any moment we could throw deep shots, and I think you like those things as a quarterback."
Obviously KU was only able to display that type of versatile offense in flashes during 2019, but the Jayhawks did put up at least 490 yards of offense and 31 points or more in three of their final six games, after Dearmon took over.
"You sell Carter Stanley," Dearmon said of sharing the story of KU's former starting QB as part of his recruiting pitch. "You sell a kid that had played in and out a couple games and you sell that this place hadn't had a 2,000-yard passer in over a decade and you come in and say, in one year this is what we're able to do."
In its first six games of 2019, before former KU OC Les Koenning was fired, KU averaged 195.8 yards a game through the air. Once Dearmon took over, KU averaged 267.2 passing yards a game.
"To be able to come in and sell that to young kids I think it helps open the eyes of quarterbacks," Dearmon said.