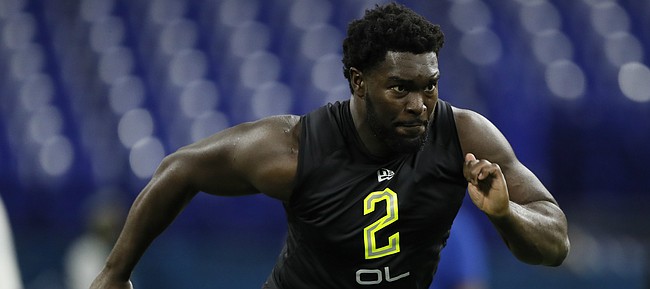 The plan was for Hakeem Adeniji to stick around Lawrence for a couple of more weeks. The former Kansas football offensive lineman would use his college town as a home base of sorts leading up to the NFL draft.
That was before everything went haywire.
Just like most of the sports world, the NFL couldn't avoid abandoning its normal state of affairs because of the COVID-19 pandemic. On Friday the league put a stop to all in-person visits between organizations and draft prospects. By the end of the day, Adeniji was back in his hometown of Garland, Texas.
Thanks to a solid showing at the league's pre-draft combine in late February, Adeniji, a four-year starter at KU, had in-person visits lined up with four franchises.
"I got one done. One," Adeniji shared during a phone interview with the Journal-World. "But everything else was canceled."
All of those face-to-face meetings with NFL teams were to take place inside KU's indoor practice facility, so the 6-foot-4, 302-pound lineman also could work out for whatever staff members made the trip.
At least, Adeniji said, the change in plans didn't catch him off guard.
"I mean, I kind of figured it was coming, because there was that one big day after the NBA suspended everything. Then everything was starting to get canceled," Adeniji said of the surge of cancellations late last week, "pro days and everything were starting to get canceled."
So Adeniji headed home, where he plans to stay until it's time for him to report to whichever of the 32 NFL teams that ends up drafting him.
In the meantime, Adeniji, like most people these days, is trying to wrap his head around this upside-down reality.
"I went to the store and you can't even get eggs," Adeniji said. "All the food, people are hoarding everything."
The longtime starting offensive tackle for the Jayhawks feels fortunate that his draft stock shouldn't be impacted by the cancellation of in-person visits and workouts. Some mock drafts project Adeniji getting selected as early as the third round.
"I think they were moderately important," Adeniji said of those since canceled opportunities. "I feel like I've done most of what I needed to as far as film, and them seeing me at the combine. I pretty much already talked with a lot of (team representatives). So I think they were probably important, like the position coaches wanted to come in and kind of get to know me more, and stuff like that. It was was probably going to be more mental than physical if anything. Just getting to know who they'd be bringing in."
Organizations still are permitted to have phone or video conference interviews with prospects up to the day before the draft, so Adeniji anticipates those replacing what he had scheduled.
Although the NFL announced Monday it is canceling all public events tied to the draft in late April, Adeniji wasn't planning on heading to Las Vegas for any of the festivities anyway.
"I just wanted to stay home with my family," Adeniji said. "Plus, that would be my first time in Vegas. So the first time I'm there I want to have fun, not be stressed about everything."
Outside of his firm draft weekend plans, Adeniji plans to keep working out on his own and living through a lot of wait-and-see when it comes to the rest of his pre-draft expectations.
"I think everybody's trying to figure out what's going on at this point," Adeniji said. "I think we're all just playing it by ear."