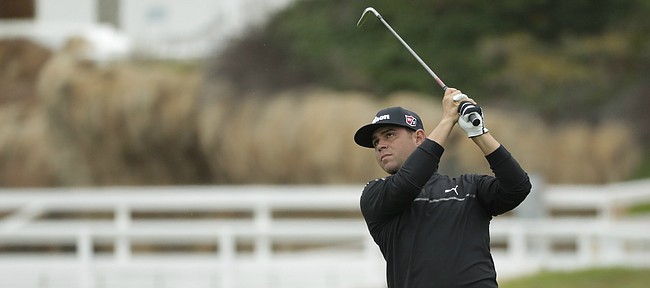 Former Kansas golf standout Gary Woodland was on the course this week when the PGA Tour decided to postpone the 2020 season through the Masters because of concerns over the spread of the coronavirus.
Like people from all walks of life, Woodland was bummed.
But it wasn't just the unexpected break in his season that had the 2019 U.S. Open champion reeling. He also was down about missing out on watching his favorite college basketball team make a run to the national title during the next few weeks.
"This is hard," Woodland said by telephone on Friday. "Personally, as a basketball fan and die-hard Jayhawk, this is my favorite time of the year. March Madness leads right up to the same week as the Masters and now we're not going to have either."
Unlike the NCAA Tournament, which was canceled altogether, golf's governing body elected to postpone the Masters, one of golf's four majors.
Woodland said he believed that was the right move and added that he had heard talk of playing one of the sport's signature events as late as September or October if necessary.
The same goes for the other three majors, which, Woodland said, all stand a good chance of being moved from their original dates and locations during the next several months.
Although the Topeka native understands why all of this movement is necessary and believes it's the right course of action, Woodland admits to being a little freaked out by all of it.
"Speaking for myself, as an athlete who works on control and lives on control and lives in a controlled environment, it's hard when that's taken from you," he said. "It makes you feel a little lost."
Rather than spending the next six weeks on the PGA Tour circuit, Woodland will be in Florida with his wife and three children. He said he would like to get back to Kansas for a week or two during the unexpected layoff, but was not sure if that would be possible and wasn't really worrying much about it.
Instead, he was focused on taking care of family, which includes his father, Dan, who has heart disease and often travels with Woodland to his tournaments.
"I think it would've been insensitive for us to go out and play," he said. "The Masters is the biggest tournament that we run and (PGA Tour Commissioner Jay Monahan) looked beyond that and looked at what was right. But it's still hard."
One of the things that makes it hardest, Woodland said, was the pay structure of golf compared to other major professional sports.
"Our money's not guaranteed," he noted. "We get paid when we play. But there are a lot more serious issues than that right now and hopefully this stuff gets better real soon."
Woodland said the magnitude of the current health scare did not really hit him until early in the week, when the attention and precautionary measures began to reach him directly.
"It just continued to get bigger and bigger," he said.
So, too, did the PGA's plan of action. Before the tour was put on pause, PGA officials sent out tips to their players for how to manage the situation.
Included among them were: Do not take Sharpies from other people; you don't have to sign autographs if you don't want to; don't shake hands with people; and be sure to utilize proper hygiene measures.

Woodland also said the proximity of golf's fans to the course and players made him think twice about the way he did everything.
"Half the time we hit it on the other side of the ropes," he said. "So we're closer to the fans, really, than any other sport. People are always reaching out trying to touch us and shake hands and we made a conscious decision to help each other out there, 'Hey, don't do that; don't shake hands, don't shake hands,' which is crazy to me. It's just a lot to think about."
While staying close to home instead of being his usual jet-setter self might seem strange at first, Woodland pointed out that he still would be able to practice and keep his game sharp for when play does resume.
That, he said, would help keep a feeling of normalcy in a world that no longer has one of its biggest and best distractions to help take people's minds off the health scare.
"There's probably a lot of panic going on that sports usually helps with," he said. "And now we don't have that right now. You look at 9/11 and George W. Bush throwing out the first pitch in New York. You look at Big Papi speaking after the Boston Marathon bombings. You look at Vegas after the massacre, with the hockey team; it all had a way of bringing people together and now that's taken from us, too."