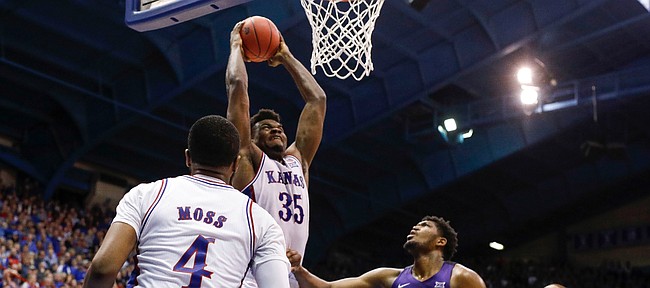 Walking around Lawrence on Friday, you never would have known that the Kansas basketball season came to an abrupt end on Thursday, with the Big 12 and NCAA canceling the postseason.
KU fans, decked out in red and blue garb, made their way through their regular routines at bars, restaurants and grocery stores Friday, all with one key thing missing — a game on the horizon.
It certainly is no ordinary March in this town, and the thousands of Kansas fans who call Lawrence home are having a hard time coming to grips with their favorite month of the year playing out with no more basketball.
"It's sad," said Drew Holland, who works at the KU Bookstore. "I don't feel any anger or anything like that. It's just a little depressing. But I think it was inevitable from everything that was happening. When I was watching the K-State-TCU game on Wednesday night, I remember thinking, 'Well, this is probably the last basketball game I'm going to watch this season.' The only thing I could think of was, 'This is real.'"
In the aftermath of the cancelations, several KU fans said their thoughts immediately went to senior center Udoka Azubuike, who came back to KU for one more run after an injury-plagued career. Azubuike won Big 12 Player of the Year honors but will not be able to add to his legacy or trophy case from there.
"That's the first thing I thought of," said Centralia resident Matt Wells, who made the trip to Kansas City for the Big 12 Tournament but never watched a game. "Man, that guy hasn't ever played in the Big 12 Tournament and now he never will."
Added KU School of Law employee Michele Rutledge, who shopped at Hy-Vee on Friday while wearing her crimson and blue KU jacket and Jayhawk earrings: "I feel so sorry for the seniors. This is what they live for and have spent so much time working toward."
In addition to feeling disappointment for the players and coaches, along with themselves for not getting to watch the NCAA Tournament, several KU fans on Friday spoke of not knowing exactly how they'll fill the time in the next few weeks that normally would have been reserved for basketball.
"There's no sports right now," said KU law student Michael Tuttle. "There's nothing going on. I guess I'll just spend more time preparing for the upcoming semester, but even that's online now. It's weird to have a bunch of guys sitting around with no sports to watch."
Added Kinzi Navarrette, during a shift at Biemer's BBQ: "I know the city's going to take a big hit, but I do think the move to cancel everything was for the better. If this were to continue to spread, that would be more tragic than losing out on the games. It's just not worth it."
KU fans are used to feeling a little lost after the end of each college basketball season. Even after KU's best years that have ended at the Final Four or with a national title, moving on from the sport and teams they love typically takes time and leaves Lawrence in a bit of a funk for a few days following KU's final game.
That gloomy feeling came earlier than ever this year and was made worse by the fact that it came on the heels of a regular season that sent hopes and expectations sky-high.
The Jayhawks entered the postseason as the No. 1-ranked team in the country and were considered by many to be the favorites to cut down the nets in Atlanta.
"This was our year to win it," Tuttle said. "We should have another banner."