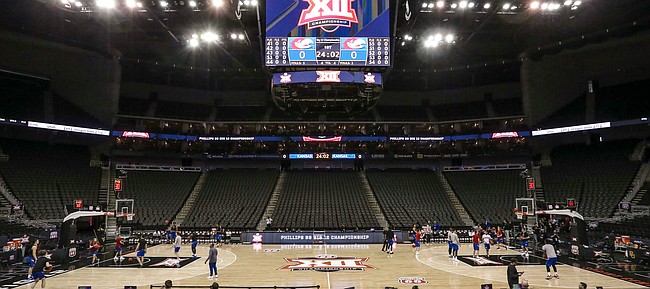 Kansas City, Mo. — Kansas basketball fans who on Thursday traveled from all across the state to cheer on the top-ranked Jayhawks in the Big 12 tournament had to find other ways to occupy their time.
Late Thursday morning, roughly two-and-a-half hours before Kansas was to tipoff against Oklahoma State in the quarterfinals of the annual event at Sprint Center, the Big 12 Conference announced that it had canceled the final three rounds of this year's tourney in light of concerns about the rapidly spreading coronavirus.
A few hours later the NCAA announced that its signature event, the NCAA Touranment, also had been canceled.
While news of both cancelations brought a fair amount of disappointment to Kansas fans all over the country, those who were scheduled to be inside Sprint Center on Thursday were frustrated for multiple reasons.
"I guess my take on it is maybe the coronavirus is overhyped a little bit," Salina resident Brad Moxter said while sipping a beer with a buddy at Kansas City's Power & Light District. "I understand exercising caution and I believe in that, but I also hate to see (Udoka) Azubuike not be able to compete for a national championship."
Moxter was not the only lingering Jayhawk fan who had Azubuike on his mind Thursday.
"That's the first thing I thought of," said Centralia resident Matt Wells. "'Man, that guy hasn't ever played in the Big 12 tournament and now he never will.'"
Wells and his wife, Nikki, who traveled to the tournament with another couple to fulfill their hotel reservation made months ago, spent Thursday afternoon at the nearby Zoo Bar instead of inside Sprint Center.
Wells admitted that they have not always gone to the Thursday games during their trips to the Big 12 tourney.
"We always skip the first day because, thanks to Bill Self and company, we're always fortunate enough to play the second day," Wells said.
But missing out altogether was not something he was all that cheerful about on Thursday.
"To them it's a revenue generator," said Wells of the Big 12 Conference, which has no insurance to offset the lost revenue from this week's change of schedule. "To us it's a fun tradition. But when the Big Ten (canceled its tournament), I thought, 'We're going to be screwed.'"
Miki Strobel, a KU fan from South Kansas City, who was killing time at Power & Light with her two friends, Pam Gobel, a KU graduate, and Linda Reeter, for the eighth consecutive Thursday session at the Big 12 tournament, predicted Thursday's cancelation after another recent event.
"When the NBA pulled the plug, we knew everything else was inevitable," Strobel said. "And it's OK. "It's a beautiful day, but it's a bummer."
While this group and dozens of other fans decked out in Big 12 team apparel filled the bars and restaurants around Sprint Center Thursday afternoon, all of them were forced to juggle the disappointment and necessity of the situation.
"The only thing you can do is trust that the people in charge know what they're talking about," said Bryan Vaughn, who came with Moxter from Salina. "I don't disagree with it, but nobody's coming and asking my opinion either."
Added Reeter: "It's disappointing, but in the back of your mind, you know you're doing the right thing."
More like this story on KUsports.com