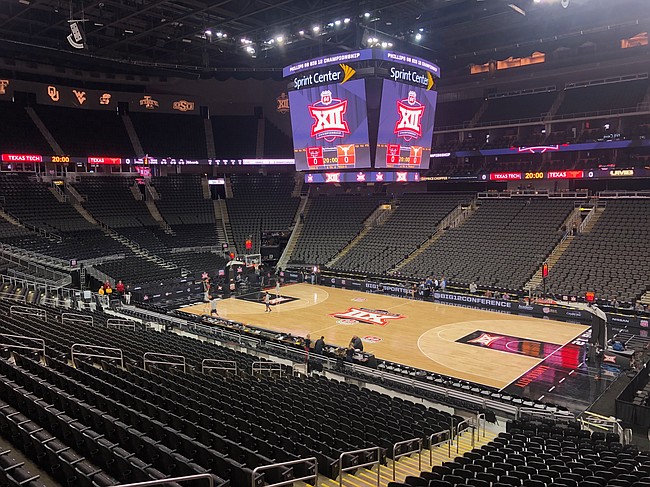 The Big 12 and the other four Power Five conferences have canceled their basketball tournaments, putting the NCAA Tournament in doubt.
Within minutes of each other, The Big 12, Big Ten, SEC, ACC and Pac-12 — the five most high-profile conferences in college sports — announced that the remainder of their tournaments would not be played. All were preparing to play games in large arenas across the country, but with few people in the buildings.
"We have obviously canceled the tournament," Big 12 Conference Commissioner Bob Bowlsby said during a late-morning press conference at the conference's tournament in Kansas City, Mo. "And we did it in consultation with a wide array of folks whose opinions we respect and who we wanted to coordinate with."
Bowlsby said he had talked to NCAA President Mark Emmert and the commissioners of other conferences and had been in "almost constant contact" with officials at the nearby University of Kansas Medical Center and Kansas City public health officials. Kansas City, Mo., announced Thursday morning that it would be banning all public events with more than 1,000 attendees.
"Once (Kansas City, Mo., Mayor Quinton Lucas) declared a state of emergency, it hastened our discussions and we spent some time with our board of directors this morning who ultimately made the decision to cancel the tournament," Bowlsby said.
The NCAA announced Wednesday that it planned to play its men's and women's tournament games that start next week with restricted access for the general public. The NCAA said only essential staff and limited family members would be allowed to attend the games.
Following the NCAA's lead, most college conferences announced that their basketball tournaments would be conducted with limited fan access the rest of the week. By Thursday, after the NBA suspended its season Wednesday night, most Division I conferences decided not to play at all.
But not all of them. The Big East started its second-round game between top-seeded Creighton and St. John's at Madison Square Garden as most of the sport was shutting down.
Also, canceling their tournaments were the American Athletic Conference in Fort Wort, Texas, and the Mid-American Conference in Cleveland at an arena scheduled to be the site of NCAA men's tournament games next week.
Bowlsby said he hadn't been part of discussions about the future of this year's NCAA Tournament.
"Hard to tell at this point whether there's going to be an NCAA Tournament to play in, or if it'll look different than the March Madness we've come to know," Bowlsby said. "I think there are probably lots of different options on the table right now that I haven't been a party to discussions on. But we believe this is the right thing. I feel terrible for the seniors that are involved in this tournament."
The Big 12 Conference also announced Thursday that it had suspended all other conference championships until April 15. In addition to the men's and women's basketball championships, the upcoming gymnastics and equestrian championships have been canceled. Future Big 12 championships this season will be evaluated by April 15, the conference said.
This story is developing and will be updated with more details.