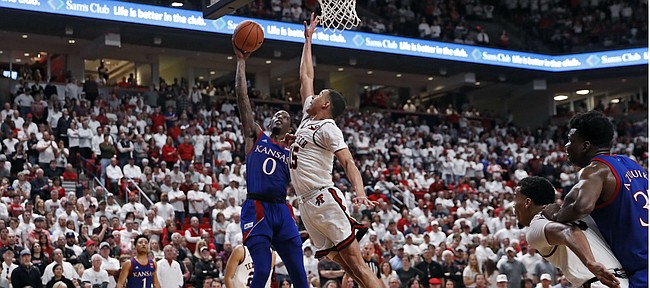 Lubbock, Texas — Saturday's 66-62 victory by No. 1 Kansas over Texas Tech brought with it a hint of deja vu for head coach Bill Self.
A little more than two years ago, in this very same United Supermarkets Arena gym, with the Big 12 title on the line, former Kansas point guard Devonte' Graham sank a circus shot in front of the Kansas bench that helped the Jayhawks pull out a two-point victory en route to their NCAA-record 14th consecutive conference championship.
That shot, which came with Graham driving to the rim and flinging the ball toward the rim, off-balance and from his hip, is still talked about around Lawrence to this day. And it came up again on Saturday, when Self looked back on a late layup by KU junior Marcus Garrett that put the Jayhawks ahead 63-59 with 35 seconds to play.
"Marcus made an unbelievable runner that reminded me a lot of Devonte's shot a couple years ago," Self said. "They played great defense, we had nothing and he just put his head down and drove it and made it."
Asked after the game if he had heard the comparison, Garrett, who was on the bench for Graham's clutch shot — which also put KU up four and fell through with 33 seconds — smiled and said he had.
"As soon as it happened," he said with a grin.
Did he agree?
"Yeah. I do," he said.
While the circumstances were similar, the shots were different. Garrett's was more of a straight-line drive to the bucket and Graham's came with the point guard falling away while defenders surrounded him.
Both, however, were indicative of the types of plays it took to win each of those games and Self was more than happy to celebrate that after Saturday's victory.
"They guarded us well, we guarded them well," Self said. "And we just found a way to make a couple of great — great! — individual plays late."
Braun comes up big
In 21 minutes on the floor during Saturday's win, KU freshman Christian Braun made, by his count, "a couple of bad defensive plays" that left the game hanging in the balance into the final minutes.
And then he made one very good one that helped KU seal the victory.
With Kansas leading by two with 1:31 to play, Braun poked his hand in on the dribble of Texas Tech guard Chris Clarke knocked the ball off the foot of KU center Udoka Azubuike. In one motion, the two Jayhawks transitioned from defense to offense, with Braun sprinting out to catch the outlet pass from Azubuike.
The rest was up to the freshman. And instead of pulling up or waiting for help, he drove right at the lone Texas Tech defender who was back on the play and dropped in a soft layup that put KU up 61-57 with 1:26 to play.
After the victory, Braun said his teammates chided him for not dunking the ball. But he had a very good reason for why he didn't.
"They were like, 'Why didn't you dunk it,'" Braun said. "And I was like, 'Because you saw what happened last time.'"
Last time came earlier this week, when Braun found himself in a similar position during a breakaway against TCU and tried to load for the dunk but missed a wild layup attempt instead.
"Just put the ball in the bucket," he said of his mindset on Saturday. "We were talking about should I have dunked it, but nah, just put the ball in the bucket and get a win. Especially at that time of the game. You just have to make sure you put it in."
Silvio sits
Despite being on the KU bench for the first time since being hit with a 12-game suspension for his role in the brawl with Kansas State on Jan. 21, KU junior Silvio De Sousa did not play in Saturday's game.
Earlier this week, when asked about De Sousa's return, Self said he envisioned a deep reserve role for the KU big man. And on Saturday, Self said he never saw the need to go that deep into his bench.
"We weren't in foul trouble," the coach said. "I'm sure Silvio's disappointed, but we played pretty well the last 12 games. If we can utilize him, we will. But I'm not going to take minutes away from David (McCormack) just to make sure Silvio gets in the game."
Self's a Tech fan
It's widely known that Self and Texas Tech coach Chris Beard are close. But Saturday, after battling with his buddy for 40 hard-fought and entertaining minutes, Self took a moment to praise the talent possessed by this year's Red Raiders.
"I don't know how Chris feels, because I'm sure he's down because nobody ever wants to lose a hard-fought, competitive game like that," Self said. "But he should feel good about his team. They're a good team."
So good that Self said Beard's squad "could have won either game" against the Jayhawks.
They didn't. And they finished the regular season at 18-13 overall and 9-9 in Big 12 play. But most bracketology projections have them solidly in the upcoming NCAA Tournament, a place Self believes they can do some damage.
"I don't know what 18-13 teams across America look like," he said. "But they would be, by far, the best one, I would think. Hopefully both teams can build off of this (game) and press on and do well moving forward."
This and that...
Saturday's victory pushed KU's current winning streak to 16 games, which ties for the fifth longest in the Self era. The 2008 national championship team won 20 in a row from Nov. 9, 2007 to Jan. 26, 2008, and three other teams (2016-17, 2012-13 and 2010-11) enjoyed streaks of 18 consecutive wins... KU now leads the all-time series with Texas Tech, 37-6, including a 15-5 mark in games played in Lubbock and an 11-4 record inside United Supermarkets Arena... KU's 28 total victories marks the fourth time in the last five years that Kansas has won 28 games or more, a feat the Jayhawks have achieved eight times in Self's 17 seasons... Saturday's victory earned KU its 15th outright Big 12 title of all-time. Counting shared titles, the Jayhawks now have won 19 of the 24 regular season men's basketball titles in Big 12 history.