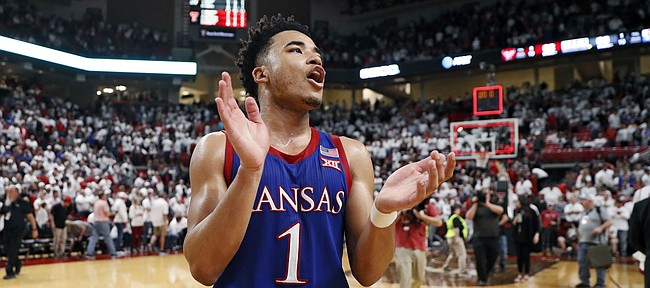 Lubbock, Texas — Three days after clinching a share of the 2020 Big 12 title, No. 1 Kansas pulled off a hard-fought, 66-62 win at Texas Tech to claim the crown outright on Saturday at United Supermarkets Arena.
And the funny thing was it didn't even have to.
With eight minutes to play in Saturday's victory, Kansas coach Bill Self let his team in on a little secret.
No matter what happened the rest of the way, the Jayhawks already had won the Big 12 title outright and Self told them as much during a timeout shortly after he had learned of Baylor's 12-point loss at West Virginia.
"I said, 'Gosh dang, guys. I don't know why you're playing so tight. West Virginia won. Just go have fun," Self said after watching his team improve to 28-3 overall and 17-1 in Big 12 play. "That didn't have anything to do with us winning, but I do think it was nice for that pressure to be lifted a little bit."
Self found out the result of the West Virginia-Baylor game during the first TV timeout of Saturday's second half. But he did not say anything to his players right away.
The reason?
He thought it might have distracted them from the focus they had throughout the week.
"We didn't want to share anything," said freshman guard Christian Braun, who scored 5 points and grabbed four rebounds, including a crucial steal and score late that put Kansas ahead by 4 with 1:26 to play. "That was our whole mindset going in — don't let them have a piece of what we worked for. So we just had to go close it out."
That certainly was easier said than done. But to do it, these Jayhawks, in becoming the first Self-coached Kansas team to go undefeated on the road in conference play, tapped into something that has fueled them all season long. Pride.
"I think it's within us," junior Marcus Garrett said. "That's all we talked about, finishing the job of going undefeated in the Big 12. Especially with our past last year and all those games we lost on the road. Me and Dot (Devon Dotson), Ochai (Agbaji), we just wanted to come back this year and try to win every road game."
And now they have.
Officially, Kansas finished the season 10-1 in true road games. The only loss came at Villanova by 1.
In Big 12 play, KU finished 9-0 and won those nine conference games away from Allen Fieldhouse by an average score of 65-54, holding five opponents in the 50s, two in the 60s and two in the 40s.
Saturday's total of 62 points by Texas Tech was the most allowed by Kansas on the road this season.
"Defense travels," Self said after Saturday's win. "And, for the most part, that's been the case with us."
Nothing about KU's most recent road win was easy. Despite the Jayhawks leading for 30 minutes and limiting Tech's time with the lead to 3:23, this one had the look and feel of two teams playing with their seasons on the line.
Kansas controlled most of the first half, thanks in large part to 30% first-half shooting by the Red Raiders. And after trailing by a point, midway through the first half, the Jayhawks closed the half on a 14-5 run. That temporarily took the rowdy crowd out of the game and put Texas Tech on its heels. But the Red Raiders (18-13, 9-9) never quit.
Despite trailing by 8 at the break and still by as many as 7 in the first few minutes of the second half, Tech ripped off a 14-6 run to take a 44-43 lead with 10:47 to play.
That was the last time the home team led, and even that was short-lived. Just 2:04 after falling behind, the Jayhawks were back on top by two possessions.
KU's two national player of the year candidates — Dotson and senior center Udoka Azubuike — had a lot to do with the quick turnaround, but not just with their point production.
On KU's first possession playing from behind in the second half, it was Dotson's poise that set up Agbaji in the deep corner for a shot-clock-beating 3-pointer that put KU back in front 46-44 with 9:20 to play.
"That was a huge bucket for us," Azubuike said.
KU's big man delivered a few of those himself, even with Texas Tech refusing to let Kansas throw it to him in the post for most of the afternoon.
With one man fronting Azubuike and another shading him behind, KU's guards found a different way to get the ball to their most dominant presence — by driving and missing.
Dotson, Agbaji (12 points, six rebounds), Garrett (9 points, eight rebounds) and Braun (5 points, four rebounds) consistently turned the corner in the paint and forced help defenders to leave Azubuike to stop the drive. That allowed Azubuike to get free and he gobbled up their misses to the tune of 15 points and 11 rebounds, which delivered his Big 12-leading 15th double-double this season.
"That's what we talk about a lot," Self said. "If (we) can force help, the advantage goes to the offense rebounding."
Added Dotson of the strategy that led to him shooting 6 of 15 but also leading his team to victory with 17 points and five assists: "Every time, you're trying to look for Dok because he's so dominant down there. They did a great job of loading up, so you just find different ways of attacking and just make plays."
The Jayhawks did enough of that throughout Saturday's final road test of the season and now have nothing but neutral-court games ahead of them in the postseason.
Kansas will play in next week's Big 12 Tournament at Sprint Center in Kansas City, Mo., as the No. 1 seed. Their first game will tipoff around 1:30 p.m. Thursday, and the top-ranked Jayhawks will face the winner of Wednesday's 8-9 game between Oklahoma State and Iowa State.
After Saturday's win, Dotson was asked how he liked the sound of 17-1 in Big 12 play, a mark that established a new KU record for Big 12 wins in a single season, breaking the old mark of 16 set by the 2002, 2012 and 2017 teams.
Dotson smiled.
"What do I think of it?" he asked. "It's great. That was our goal, to win it outright. Don't share anything. For us to go 17-1, it's big. Hopefully we can build off of it. We're not satisfied. We have bigger goals and aspirations, but we can build off this for sure."