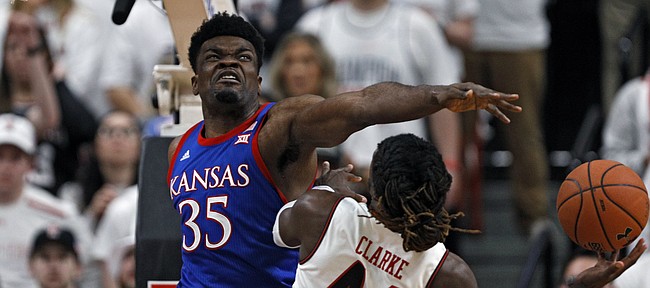 Lubbock, Texas — As shots refused to drop early in the second half, those offensive outcomes didn't rattle No. 1-ranked Kansas, even as Texas Tech and its home crowd surged on every misfire Saturday afternoon inside United Supermarkets Arena.
The Jayhawks long ago convinced themselves that they're the type of team that can withstand most droughts and slumps. One more on the final day of the regular season didn't fluster them.
They just kept on doing what they do, as their head coach, Bill Self, advised them to before the game. What these Jayhawks do best is defend enthusiastically. Oh, yeah. And win on the road.
Their 66-62 victory at Texas Tech wrapped up an outright Big 12 championship and made the Jayhawks a perfect 9-0 in league road venues.
None of that is possible if their 2-for-12 shooting in the first seven minutes of the second half, in a hostile environment no less, becomes a mental burden.
"When the shots aren't falling, we've got to rely on our defense," KU sophomore Devon Dotson said. "We know there's going to be some stretches of games that shots are not falling and you've just got to find a way to win. Different ways. Whether that's rebounding, defending, anything. We've just got to find a way to win."
The Jayhawks (28-3 overall, 17-1 Big 12) weren't even close to playing to their defensive ceiling in the second half, but the stops they made were timely. And the poise with which they're able to play because of their defense is as important an attribute as this team carries with it into the postseason.
"I think we guard," Self said, when asked what made it possible for KU to go unbeaten in Big 12 road games. "You go back and look, at West Virginia, ugly offense. At K-State, ugly offense. Today, not very good. At Texas, not very good. At TCU, not very good — we won that game, 60-46. The consistent thing has been the defense."
Offensive hot and cold streaks come and go. KU's defense often looks slump-proof.
The Jayhawks haven't had to win many tight games on the road this season, thanks to that effective defense. But when crunch time rolled around on Texas Tech's senior day and a win wasn't even close to being a foregone conclusion, the Jayhawks trusted in their ability to make opponents play poorly.
They always feel confident in their defense, said freshman Christian Braun, whose steal and layup with less than two minutes to go put KU up 4 points, because of the team's three best defenders.
With Dotson and Marcus Garrett keeping guards in check outside, and Udoka Azubuike protecting the paint, it emboldens anyone on the court with them to make gritty plays on defense, too.
"Defensively, we're really confident," Braun said. "If we need one stop, we always talk about would you rather have the ball or need to get a stop. I think we showed that we can get a stop whenever we need one."
No one takes more pride in shutting down the man in front of him than Garrett. It was his job Saturday to keep Tech freshman Jahmi'us Ramsey in check.
In their first meeting with the Red Raiders (18-13 overall, 9-9 Big 12), Ramsey put up 26 points and went 5-for-8 on 3-pointers in Lawrence. He only scored 6 points on Tech's home floor.
Garrett described himself as "a lot motivated" for the rematch.
"I feel like the first time we played them in Allen Fieldhouse there was a lot of switches," Garrett said. "I feel like (today) there weren't a lot of switches and I was able to stay attached to him."
Best of luck to any player in the country who has Garrett defending him the entire game. Garrett's commitment to his craft makes him the smartest player on the court the majority of days. A coach in uniform, he knows where everyone on his team should be. And he knows where everyone on the other team is trying to get.
The Jayhawks wouldn't be in position to possibly enter the NCAA Tournament as the No. 1 overall seed without their unyielding defense. And it's that same trait that allowed them to ultimately finish two games ahead of Baylor in the Big 12 standings.
"We were down one with four games left and end up winning by two," Self marveled. "Baylor deserves a lot of credit. They've had an unbelievable year. But our guys deserve the lion's share of it for grinding."