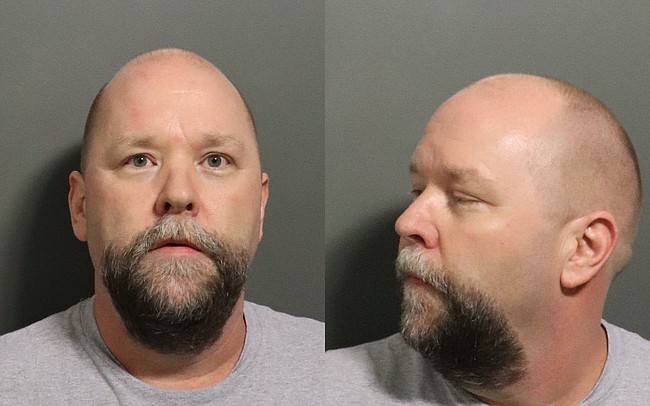 A Lawrence man recently charged with a child sex crime had been on contract with several University of Kansas women's athletics teams since 2015, according to KU leaders.
A statement from KU Chancellor Douglas Girod and Athletic Director Jeff Long on Thursday leaves open a question of whether any student-athletes had made any complaints to team authorities and whether the university was aware of any such complaints.
Shawn Paul O'Brien, 48, until recently was listed as a registered owner of Kamehameha Massage LLC and has been charged in Douglas County District Court with aggravated indecent liberties with a child in connection with incidents that allegedly occurred seven or eight years ago, the Journal-World reported recently.
Acting on a tip, the Journal-World asked Kansas Athletics spokesman Dan Beckler on Monday about O'Brien's connections with KU athletic teams. In the statement Thursday, Girod and Long confirmed that O'Brien has worked as an independent contractor providing massage therapy to some female student-athletes.
Girod and Long wrote in the statement that "immediately upon learning of the arrest," the university began an internal investigation, led by an outside entity, into O'Brien's interactions with the student-athletes.
"Though still in the early stages of this process, we are deeply troubled by what we have learned so far," Girod and Long said in a joint statement.
The Journal-World filed a request Wednesday under the Kansas Open Records Act for any contracts between O'Brien and KU. The contracts, which the newspaper received Thursday afternoon, show that at various times since 2015, O'Brien has provided massage therapy for the women's basketball, women's tennis, softball and soccer teams. However, the contracts indicate that only the softball and soccer teams entered into agreements with O'Brien multiple times.
The statement, addressed to "Students and colleagues," did not directly address some questions from the Journal-World, including what protocols are in place if athletes want to make complaints about contracted providers, whether there is a designated person responsible for handling such complaints for each team, and what procedures those people are expected to follow to handle a complaint of this nature.
"At the University of Kansas, employees are mandatory reporters and have an obligation to share information regarding sexual harassment and sexual assault," the statement said. "Relatedly, Kansas Athletics has strict protocols and numerous required training programs focused on students' wellbeing and the necessity of reporting inappropriate behavior. If these processes failed us in this instance, we will find out why."
As the Journal-World reported Sunday, a girl accused O'Brien of touching her sexually under the guise of a "massage." O'Brien also allegedly told her that she shouldn't tell anyone what happened because he said massages were "really expensive" and she was "lucky" to get one for free.
O'Brien was booked into the Douglas County Jail on Feb. 7 and released the same afternoon on $25,000 surety bond, the Journal-World has reported. He was formally charged Feb. 21, court records indicate.
Girod and Long did not specify in the statement which teams O'Brien has treated. The contract has been terminated and O'Brien has not worked with the student-athletes since he was charged, according to the statement.
"We will continue our investigation to further understand the conduct of the therapist and determine who, if anyone, knew of inappropriate behavior that may have occurred," the statement continued. "... While we do not expect to provide daily updates, we pledge to share additional information, as appropriate, and at the conclusion of our review."
The Douglas County Sheriff's Office previously declined to release O'Brien's booking photo to the Journal-World. The newspaper received the photo early Friday morning.
Court records show that attorney Philip Robert Sedgwick is representing O'Brien. Sedgwick has not responded to the Journal-World's phone message seeking comment.