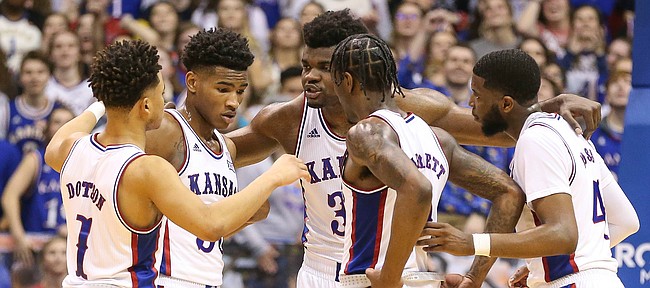 A day before KU released its response to the NCAA's Notice of Allegations, Kansas men's basketball coach Bill Self said he didn't believe the scandal around the program would create any added distractions for his players as they prepare for the postseason.
After KU's 75-66 victory over TCU on Wednesday night at Allen Fieldhouse, Self praised the top-ranked Jayhawks for the way they had blocked out the uncertainty and negativity hanging over the program during recent months.
"We dealt with some stuff that's been pretty well known publicly (that was) basically very little fault (of) the guys," Self said. "... That can be taxing on a team mentally, but I think they've been great. I think they've acted maturely."
KU's response to NCAA notice of allegations
On Thursday, March 5, 2020, the University of Kansas made public its response to the NCAA's notice of allegations against the men's basketball program that came in the wake of a federal trial over corruption in college basketball recruiting.
Here is the landing page for KU's response, which includes a variety of PDF documents and an overview of KU's argument.
That doesn't differ much from what Self said in September, when the NCAA first sent the Notice of Allegations. After KU's first official practice of the 2019-20 season, when asked if he thought the allegations would be a distraction for his team, he said, "I do think it could become that if I'm not very mature about it. But I plan on being very mature about this. And I plan on coaching this team better and harder than any team I've had here at Kansas."
In the allegations, the KU program is charged with three high-severity Level 1 violations and a lack of institutional control. Self also faces a charge of head coach responsibility.
Now in their second consecutive week at No. 1 in the national polls, the Jayhawks sit at 27-3 overall, 16-1 in Big 12 play and have clinched at least a share of the Big 12's regular-season title. They have not dropped below No. 6 in the Associated Press poll all season and spent just one week outside of the top five.
On Wednesday, Self said he hadn't played much of a role in crafting KU's response to the allegations.
"There's nobody on our team (who's) a part of any of that," Self said. "That's attorneys dealing with the NCAA. And, to be real honest with you, I'm not a part of that. I haven't spent much time on that, preparing that and doing that."
Shortly after his team clinched a share of the Big 12 title on Wednesday, Self told the Kansas crowd that he was as proud of this team as any he had coached.
He said he felt that way because of the players' ability to perform while the university waded through a process of what could lead to potentially severe penalties.
"And I meant what I said," Self reiterated in the postgame press conference.
KU officials said Wednesday that Self would have no further comment on the school's response or the allegations themselves.
"I'm sure (the response will) speak for itself," Self said Wednesday night.
The NCAA now has 60 days to respond to KU's response, and from there the two sides will schedule and conduct a hearing geared toward a resolution.
The Level 1 tag classifies the allegations against KU as the most serious variety, carrying with it the stiffest potential penalties both for the program as a whole and for Self individually.
But Self said the focus would be on finishing the season strong and competing for a national championship.
"I haven't let (the allegations) bog me down as a distraction, and (they) certainly won't moving forward," Self said. "I just look at that as that was something that needs to happen from a mandatory standpoint, but it's no more than what we knew it was three or four months ago. It's just the next play."