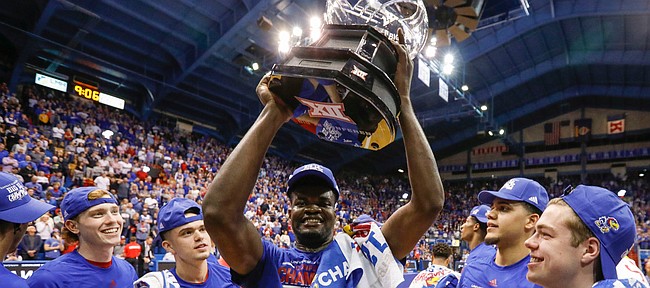 With the Allen Fieldhouse stands still packed with fans, Kansas seniors Udoka Azubuike and Isaiah Moss delivered short senior night speeches following Wednesday's Big 12-title-clinching, 75-66 victory over TCU.
As the trophies they helped win sat on three tables behind them, Moss and Azubuike thanked their coaches, friends and families while regaling the crowd with funny stories from their time as Jayhawks.
Moss, who spoke for barely 2 minutes, thanked his family, the fans and KU coach Bill Self in particular.
"He brought something out of me that I didn't even know I had in me," Moss said of his head coach.
Although he spent just one season playing in Lawrence, Moss included a plug for Allen Fieldhouse in his senior-night speech.
Photo Gallery
Kansas basketball v. TCU (Senior Night)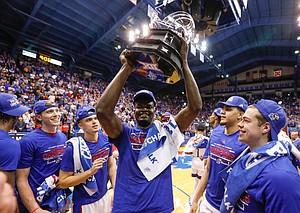 View a gallery of images from Wednesday night's game between the Jayhawks and Horned Frogs at Allen Fieldhouse.
"I've been to a lot of arenas in my college career," the former Iowa guard said Wednesday night. "And there's nothing like this at all."
Azubuike was up next, and even though he has a reputation for being a man of few words, the senior center who scored a career-high 31 points in his final game at the fieldhouse alerted the fans who stuck around that this time might be different.
"Coach said I couldn't go over 5 minutes, but I don't know," he said. "I might go over that."
He did. After thanking each of the KU coaches and staff members individually, Azubuike, who is originally from Nigeria, thanked his host family back in Florida — they'd made the trip to Allen Fieldhouse to celebrate.
Azubuike then turned to his teammates and thanked them profusely, adding "We've still got a long ways to go."
Azubuike capped his speech with some words for Self, who he said taught him a lot about life, and with "a special shout-out for the best fans in the world."
The pregame video on Wednesday featured 10 clips of Azubuike and Moss to set the tone for senior night. And the seniors said they weren't done racking up highlights yet.
"I can speak for all of my teammates when I say we're going to do all we can to bring a national championship home to you all," Moss said. "Rock Chalk."
Added Azubuike at the end of his speech: "Let's go to Atlanta."
In addition to Azubuike and Moss, Wednesday was also the final home game in the careers of four KU managers — Casey Cohen, of Scottsdale, Ariz., Alex Lux-Bolivar, of Boca Raton, Fla., Danny Meyers, of Kansas City, Mo., and Lexi Price, of Topeka.
Cohen and Price have served as the team's co-head managers this season.
Azubuike's indifferent
For the past couple of weeks, some Kansas fans have been debating online about the proper spelling of Azubuike's nickname.
Hashtags — #TeamDoke or #TeamDok — have been created on Twitter and fans have given lots of reasons for why they believe their spelling of "Dok" is the correct spelling.
Earlier this week, Azubuike was asked for his opinion on the topic.
"Oh, man," he said with a smile. "See, I'm not even on Twitter. I've got Twitter, but I don't use it. But people like (Snapchat message) me, asking the same stuff. For me, I don't care how people (spell) my name. I'm good with it either way."
While it is just a nickname, the lone semi-official source on the matter is the Kansas basketball game notes, which use the "Dok" spelling to highlight the 7-foot senior's achievements.
Coronavirus concerns
Earlier this week, the National College Players Association sent out a statement urging the NCAA to consider whether hosting its signature college basketball event of the season in light of the recent, worldwide spread of the coronavirus.
In part, the statement read: "In regard to the NCAA's March Madness Tournament and other athletic events, there should be a serious discussion about holding competitions without an audience present."
Self said he would leave those decisions to the experts, but added that he had talked to his team about the virus.
"Not from a standpoint of what could happen with the NCAA tournament," he said. "From a standpoint (of) wash your hands with warm water, soap, 20 seconds at least. I've done those things and (emphasized) using hand sanitizer as much as possible and trying to stay out of public places as much as possible."
While the idea of playing their most significant games of the season without fans there to watch did not sit well with Self, he agreed that public safety was the most important element of the situation.
"As far as the tournament, I'm not going to give that much thought," he said. "It would be bad if (playing in empty arenas) happened, but if it happened it's because it's for the betterment of our world and our country. So you can't argue with that. … Certainly we don't want that to be the case, but obviously the well being of everybody takes precedent over having people in the stands."
Added Moss: "That would be weird, just because it's different. It's never been like that."
This and that...
In addition to moving the Jayhawks streak of wins in their home finale to 37 games, Wednesday's victory pushed KU's current winning streak to 15 games and gave the Jayhawks at least 27 wins for the fifth time in the last six seasons and the 12th time in Self's 17 seasons at KU... KU's 16 conference victories also put this team in elite company. Only three other Kansas teams have won 16 Big 12 games in a single season since the league was formed in 1996-97... KU now leads the all-time series with TCU, 20-2, including a 9-0 mark in games played in Lawrence and an 8-0 record inside Allen Fieldhouse. KU has won five in a row over TCU since losing to the Horned Frogs in the quarterfinals of the 2017 Big 12 tournament... Kansas finished the 2019-20 season with a 15-1 home record, including a 14-1 mark in games played at Allen Fieldhouse. The Jayhawks are now 802-114 all-time in the fieldhouse and 264-14 under Self... Kansas City Chiefs chairman and CEO Clark Hunt was in the crowd for Wednesday's game. He appeared to be a guest of KU alum David Booth, who also was at the game.