Wednesday was a night for the Kansas basketball program to salute the only two seniors on the active roster, Udoka Azubuike and Isaiah Moss, as they played their final game inside Allen Fieldhouse.
While that was the main event in a 75-66 Jayhawks victory, the co-headliner might as well have been Devon Dotson. You could call this his sophomore night, too, because he's not likely to play any games for KU as a junior or senior.
The 6-foot-2 point guard from Charlotte, N.C., of course, won't officially announce what level of basketball he'll be playing at during the 2020-21 season until after the conclusion of this one. But you'll recall he used as much time as possible following his freshman season to test the NBA draft waters. When he ultimately decided to come back to Lawrence and improve his stock, you know he did so eyeing the 2020 draft, as well as the types of rings the very best Jayhawks who played here before him earned.
Photo Gallery
Kansas basketball v. TCU (Senior Night)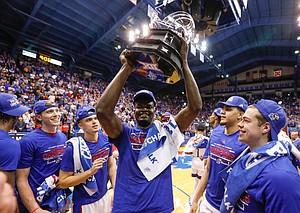 View a gallery of images from Wednesday night's game between the Jayhawks and Horned Frogs at Allen Fieldhouse.
He assured himself of at least one on Wednesday once time expired versus the Horned Frogs and KU wrapped up at least a share of the Big 12 regular season title.
Dotson's KU teammates and his head coach, Bill Self, couldn't be happier with the results of his laser-focused approach.
Who would have thought before the season began that Dotson would become one of college basketball's elite point guards? Well, he would, for starters.
Dotson's confidence in himself and dedication to his craft during the offseason turned him into the Jayhawks' best scorer, a year after he established himself as a guaranteed blur in the open floor. Now he's much more than that. His speed is coupled with an even stronger frame, as well as the type of savvy that so often makes it impossible for defenders to stay in front of him — in transition or in the half court — as he displayed en route to 18 points versus TCU.
"We have the best point guard in America," Self declared after the win, while addressing the crowd and surrounded by the program's recent trophies.
A leading candidate for the Big 12 Player of the Year, a finalist for the Bob Cousy Award and a possible All-American, Dotson followed up one of his all-time best performances — 25 points on 8-for-11 shooting at Kansas State — from his likely short college career by emerging out of the significant shadow cast by his KU co-star, Azubuike, against TCU.
Biding his time, Dotson entered the scoring column with 5:20 left in the first half after happily taking a backseat on offense to the fourth-year center from Nigeria.
Once Dotson drove in to finish a layup at that juncture, he was back to sharing the spotlight and giving TCU fits. He had 9 of his points by halftime, draining a much-needed 3-pointer in a sluggish first half for the nation's No. 1-ranked team and later drawing a hard foul on a fast break.
Early in the second half, Dotson looked like a safety baiting a quarterback into a throw, dropping back from an obvious outlet pass just so he could explode through the passing lane and pick it off. His fourth steal of the night also provided him an easy runway for a fast-break layup.
The timeliness of Dotson's plays on both ends of the court have been crucial to KU's emergence as the best team in the country, whether he's racking up steals, driving downhill or getting to the foul line (he entered the week shooting 82% on free throws and averaging 5.8 attempts per game).
He even knocked down 3-pointers (2-for-3) versus the Horned Frogs. And his make near the 11-minute mark of the second half felt like a watershed moment for a tired-looking group of Jayhawks, because it turned what had been a tight game into a 7-point lead for KU. Dotson built upon that not 20 seconds later, by snagging a defensive rebound and turning it into an opportunity for a one-man track meet the other direction. Fast and under control when driving at defenders, Dotson showed off one of his many strengths, befuddling a defender into contact so he could score easy points at the foul line.
The only plot twist that kept Dotson's night and likely home finale from concluding in storybook fashion was an injury to his lower left leg. The pain, though, only knocked him out of the lineup for a couple of minutes.
It was a fitting fieldhouse finale for both Azubuike and Dotson, because they both carried the Jayhawks yet again. KU will go as far as the duo can take this team in the weeks ahead. And their star power, paired with the team defense they play with their teammates, could be enough to cut down quite a few nets between now and when "One Shining Moment" plays after the national title game.
https://www.youtube.com/watch?v=jkq9yNUZNz4&t=2s
https://www.youtube.com/watch?v=GoFo_3WqL58
https://www.youtube.com/watch?v=UbMzgmuGe8M