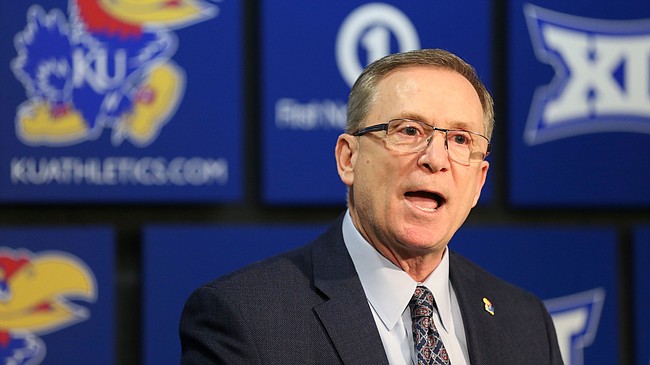 University of Kansas Athletic Director Jeff Long will testify Wednesday in Topeka in favor of state legislation that would allow student athletes to be paid for use of their name, image and likeness.
Kansas lawmakers will take the first step in joining a growing number of states entering the complicated world of paying student athletes while also maintaining the amateur status of those athletes.
The legislation under consideration, Senate Bill 474, makes clear, though, that the Sunflower State wants to follow the national pack rather than be a leader on the issue; the bill would only take effect if 15 other states pass similar legislation first.
"States across the country continue to pursue legislation related to Name, Image, and Likeness. Senate Bill 474 does not intend to put Kansas universities in the forefront of this evolving policy matter, but rather simply seeks to ensure Kansas student-athletes aren't disadvantaged relative to their peers in other states," said KU spokeswoman Erinn Barcomb-Peterson in an email.
Barcomb-Peterson confirmed to the Journal-World that both KU Chancellor Douglas Girod and Long support the bill in its current form. Girod testified before a U.S. Senate Committee in February that KU would support federal efforts to pay student athletes for their name, image and likeness.
Under Kansas' proposed legislation, a university like KU would be unable to create a rule that prohibits a student-athlete from earning money for the use of his or her name, image or likeness, and also states that if an athlete does earn money, that compensation can't be counted against the athlete's eligibility for a scholarship.
The bill also dictates that the colleges and their respective athletic departments are not able to pay athletes for their name, image or likeness. Where the freedom to earn that money comes from is in the athlete's ability to negotiate with third-party entities that partner with an athlete to promote a product, such as video game companies or apparel companies.
Student athletes could also be represented by a certified agent or attorney for any negotiations with a third-party entity — free from any interference by the university or its athletic department, as long as the third-party contract doesn't violate any standing agreement those departments have with another company.
If a student athlete entered into a third-party contract, he or she would have to disclose the contract to a school official within five days of signing it.
Kansas is one of at least 15 other states to introduce a similar bill, according to a Journal-World analysis. It's unclear, however, how many states have actually passed name, image, likeness legislation. Also unclear is where federal legislation on the same issue stands.
Wednesday's hearing will be before the Senate Commerce Committee at 8:30 a.m. at the Kansas Capitol.